Benfleet Conservation Area
The High Street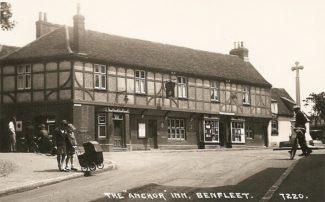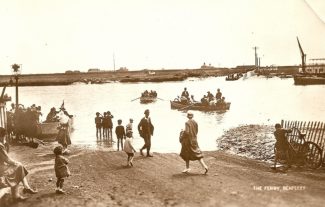 Benfleet is very fortunate in having an excellent conservation area where many buildings in our historic High Street have been preserved.  With the backdrop of our lovely St. Mary's Church, the Downs and the Creek, the area is most attractive. We are able to identify places of interest and we hope to be able to trace its more recent history, through your memories, on this site.
We are able to see, through photographs, how the area has changed over the last 100 years or so. These pictures taken from postcards of the early 20th century (courtesy of R.F. Postcards) show us that the village of Benfleet was very much part of a working community, shops, pubs and creekside businesses thriving alongside one another.
It was also the area where residents spent their leisure time with three public houses to choose from, The Anchor, The Hoy and The Crown.  They are still there today and can be easily recognised.
 Children, too, gathered to play both in the street and around the creek. Note the new War Memorial in the photograph.
As the century progressed the area gradually changed, roads were made up, a regular bus service started, and, of course, the motor car had to be accommodated.
The High Road (formerly London Road) became more built up, parades of shops appeared and the small High Street shops slowly began to disappear.  The addition of a bridge onto Canvey Island, and the growth of the community there, meant that traffic increased and, sadly, in the 1950's and early 60's, shops on church corner had to be demolished to make way for a wider road. (Photos supplied by J.Downer)
Today the area is mostly given over to leisure.  The public houses have been joined by restaurants.  It is no longer a major working area but commuters arriving at Benfleet Station are still glad of somewhere to relax at the end of a busy working day!
We would like to know what you recall of the High Street of the past, to record your personal memories.  Can you remember the shops or shopkeepers? Have you any photographs you would like to share with us? Please help if you can.