Memories of North Benfleet 1935 to 1944
A Different World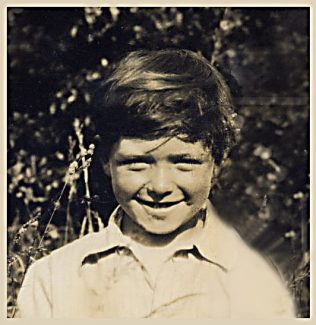 Read Peter's descriptive account of life in North Benfleet – the 'Fairmead Estate' resembling a rural area somewhere in Russia – the North Benfleet School where he incurred the wrath of the head mistress -selling home made fare to 'Day Trippers' – the 'instant' photographs sold to semi-inebriated travellers.
My Early Years
My name is Peter Watts and I was born in 30 Francis Street, Chelsea, London on the 18th August 1930.
At the time of my birth Chelsea was a much different kind of place to what it is now and for many years I have promised myself that I would go see my birthplace;  at age 81 however and living in Australia, I doubt if I will ever be able to see England again let alone Chelsea, North Benfleet, or South Devon in particular where I spent some of the happiest years of my life.
As any student of history will know the 1930's produced some of the most horrific tales of hardship as a result of firstly an economic disaster, followed by one of the worst periods of financial depression ever.
Like most men at that time my Father took whatever work he could get and when I was born he was a taxi driver.  He had learnt to drive in the Royal Army Service Corps during the First World War, 1914-1918.
I am told that my parents were in the process of purchasing our home in Surrey, hampered with a fairly hefty mortgage, and I imagine when I came along, and thus being the fourth child, my arrival was not altogether a welcomed event……  I am quite confident that similar to the majority of children those days, I was no 'Love Child' and probably the result of a few too many beers on a Saturday night!
Nobody has ever told me what exactly happened but, I distinctly recall an old flat bed 'Foden Steam Wagon' with stanchions and chains encircling the tray back being loaded up with our furniture, (late at night) the three eldest children huddled together on the back (in the cold) and I sat with my parents up front. In later life I have found the truck to have been a brewer's dray.
Every so often the truck would need to stop, the driver and my Father find a ditch or small stream somewhere to top up the steam engine with water, and the driver would also stoke up the boiler (probably with anthracite or coal);  I can well remember having a sore throat as a result of the sulphurous smoke emanating from the stack and blowing into the open cab because of the downdraft; It was not a pleasant experience.
I have since established that the location of the 'dwelling' was in Nevendon Rd, 1/2 mile north of the intersection of Southend Arterial Rd.  I can only assume the place is known as Nevendon.  (In those days it was in the heart of the country, I am the baby in the photo with my Mother).My memory is vague as to what happened next, except that I clearly recall waking up next morning and looking up at a corrugated iron roof (no ceiling), and  an old oil lamp hanging down from one of the rafters. There was no inside toilet. The main door was hinged in the middle and if one wished to use the toilet it was an 'outside dunny' down at the back of the garden.  It was not really a conventional house at all; it was obviously a roughly converted stable!
'Broken Biscuits' for my School Lunch
We must have lived there for some time, as I remember attending a small (my first) school in Station Road, Wickford.  The only thing I can recall about the school was that it was up a short road off Wickford High Street (near the market) where there was a Fish & Chip shop and my brother and sisters often used to buy a penny's worth of chips. Thence to a grocery shop next door and buy a 'penny's worth of 'Broken Biscuits' for our school lunch.
North Benfleet
I cannot recall, with any precision exactly when we moved to North Benfleet but it must have been sometime during 1935/6.  I clearly remember accompanying my Mother and sister searching for a house in an area called 'Fairmead Estate' (off Cranfield Park Road), whilst my Father was out looking for employment.
'Fairmead Estate' then  resembled a  rural area somewhere in Russia. The 'Roads' were simply clay tracks bounded by narrow footbaths, parts of them being sealed by cinders thoughtfully thrown out by householders, and one had to be careful not to slip into the deep ditches each side of the muddy road. The 'houses' were mainly shacks and I remember we looked at an advertised house "TO LET" which was nothing more than an old railway carriage placed on concrete blocks in a 'sea of mud'!
Finally, and after a fruitless search in Fairmead Estate we found a little bungalow called "Home Cot" situated in Cranfield Park Road, 200 yards down from the Harrow Inn in the direction of Wickford) and next to a small farm owned by an old couple named Mr & Mrs Jenner.
'Home Cot' was a pleasant little cottage, except once again the only available water was from a pipe stand outside the house and the inevitable 'outside dunny' toilet situated behind an old barn.
The nearest 'shop' colloquially known as  'Stonely's' (a tiny area of a private home) was also situated in Cranfield Park Road and right opposite the Harrow Inn.  (If one were looking for weekly groceries etc, it was necessary to go to either Pitsea or Wickford markets.)  The nearest butcher was 'Mr Mann' at the very top of Pound Lane near the London – Southend Road.
My Father finally found a job as a house painter and drove an old Lee-Enfield motor bike and side-car.  The general state of the economy was still extremely bad and our clothing was mainly 'Hand me downs' from older siblings and/or usually purchased at the Pitsea or Wickford markets.
The Wrath of Miss Nightingale
Unforgettably, (and traumatically) my eldest sister (Joan aged 12) took and enrolled me at North Benfleet School, I was then aged about five. The head mistress was, I believe, called 'Miss Nightingale' and I will never forget her….
The second day I attended the school I must have done something to incur the wrath of Miss Nightingale as she caned me across both legs leaving nasty welts. Needless to say, my Mother 'hit the roof' when I arrived home crying and, trailing me with her went straight back to the school and, after a serious altercation, slapped Miss Nightingale across the face. I never saw Miss Nightingale after that, the next head teacher, Miss Fuller, remained at the school until I left in 1941. I think she may have been pleased to see me go, as for whatever reason she did not like me.
In May 1935 the school celebrated the Silver Jubilee of King George V. It was a grand sort of occasion; all of the children were handed flags and were required to walk in crocodile formation to the intersection of Pound Lane/Cranfield Park Road/Arterial Rd and wait opposite the pub for some dignitary or other to drive past us. Certainly NOT KGV!) The 'Dignitary' (The Mayor perhaps?)  never arrived but we later learnt that a  posh car was in the forecourt of the pub all day. We had waited for well over an hour.  However, all was not lost as we then trooped back to the school and enjoyed a hurriedly arranged 'Sports' afternoon.
During 1936/37 the economy improved somewhat. The 'Harrow Inn' did a roaring trade on summer weekends and to such extent that we children literally used to watch and wait for accidents to occur outside the pub. (I clearly recall the 'Arterial Road' and cycle path being built at that time and with Irish 'Navvies' hand packing the Arterial Road base course.) The Pound Lane/Cranfield Road/Arterial Road intersection was terribly dangerous, no warning devices, and I have no doubt was the site of more than one death plus many serious injuries.
On weekends, my entrepreneurial parents did quite well making toffee apples and creating small bunches of flowers which my elder brother and sister took up to the pub on trays and sold to London – Southend 'Day Trippers' on what were then called 'Charabancs'. The day-trippers would leave London during the early morning, celebrated all day in Southend and enjoying all the artificial forms of amusement. On the way home they would literally stop at each pub for 'comfort stops' and more drinks.

'Kiss me Quick' hats and Jellied Eels
All sorts of activities took place on the Harrow Inn pub forecourt; 'Instant' photographs were taken of semi inebriated travellers, by a man with a huge cane tripod, camera on top, and covered with a large black cloth as he took photos.  The subjects usually had their arms around each other, singing at the top of their voices and holding each other up. (For processing the photos were dunked into a small enamelled mug attached to a leg of the tripod, fixed in bromide thus rendering the photos as sepia toned, but soon  became  almost indistinguishable because of their not being washed in fresh water. By the time the 'Day Trippers' arrived home a few hours later the photos were black!
Most of the holidaymakers wore silly little hats with all sorts of slogans, viz 'Kiss me quick' on them….. Fights aplenty and with the ' Flying Squad' in evidence in their Wolseley cars replete with an officer seated in the back, wearing huge headphones and using a Morse code tapper. Inevitably, sales of Cockles, Shrimps Whelks, Jellied Eels and Pies were on all day.
Year 1937 ushered in and once again, it was time for us to move on, this time to 'Hall Cottage', No 4, Pound Lane.
Somewhat similar to our previous move, this was accomplished by the use of a builders handcart and loaded/pushed by the whole family. It was very much the custom in those days.
Hall Cottage is situated in Pound Lane and almost opposite the intersection of Hall Road. We rented the property for 14 shillings and sixpence per week. It was a semi-detached property, obviously poorly re-modelled and was once a single residence standing on about 2 acres. Once again, there was no proper sanitation, the 'dunny' was round the back of a barn (old stables) and the only cold water supply was from a tap that was situated in a wooden, straw lined box at the front of the property. (The LEAD pipe froze and burst every winter).
Mains sewerage was not available at that time anywhere in the district. No electricity, gas in the kitchen and living room only.   (We used oil lamps, candles, and the only form of heating for the whole house was a large coal range/oven situated in the kitchen.
On the ground floor were a 'Scullery' a kitchen cum dining room cum lounge, a 'larder', and a front room used as a double bedroom.
1.5 acres and eighty mature fruit trees
The total area of ground available to us was approximately 1.5 acres, comprising a large garden and small field at the back adjoining Mr Pratt's farm.  We had eighty mature fruit trees.
Our immediate neighbours (under the same roof) were Mr and Mrs Amos.  They were lovely people, two or three adult offspring and one young son called Stanley with whom I went to North Benfleet School.  Stan was two years younger than me, a really nice boy and we got on extremely well.
Next to our property and nearest to Burnt Mills Road was a most fascinating cottage. It was called "Dulce Doman", very old indeed and was the smallest residence I have ever seen.  Every aspect of the building seemed to be in miniature.  The ceilings would only just permit an average size person to stand up straight, the doors required virtually ALL adults to stoop to gain entry and almost every newcomer to the area would stop and stare.  We all knew the home as 'The Three Bears House"  …  The property is now completely demolished and used as a car auction site.   A great shame as it should have been included on the local 'Heritage List.'
Our neighbours to the right of our home and almost directly opposite Hall Rd were Mr and Mrs Markham.   Mr Markham was a blacksmith and operated his 'Smithy' business near to what is now known as the "Gun Hotel' on the old London Road on the way to Pitsea.
The Markham's had two sons, Alfred and Edward, plus their eldest daughter Hettie. They owned a magnificent property, used as a poultry farm (not a hen battery such as is used today) but 'Free Range' and separate hen houses.  The property stretched all the way up to 'Smilers Farm'.
Opposite our home, and at the top of Hall Road on the left was a small row of houses and then a large barn.  Immediately opposite was Farmer Jacksons private home.  Hall Road actually continued for another half mile before intersecting with another designated, grassed road which leads to Tarpots in one direction and to Harrow Road in the opposite direction. We knew both (unmade) roads as "The Roman Roads"   Whether they were or not I cannot say.
As one surmounted the hill going up Hall Road, just past farmer Jackson's house, and prior to turning right towards 'All Saints Church' was a large pond with an island in the middle; a wonderfully picturesque spot and where numbers of people fished for 'Golden Carp'.  (Viewing the site now per 'Google Earth' I note that the pond has now been filled and a huge agricultural building stands on the spot.)
17th Century 'North Benfleet Manor'
Proceeding towards the church and on the right was a wonderful old building, originally named "North Benfleet  Manor" and dating back to the 17th century.  As children we used to play in and around the Manor house, it exuded a charm all of its own and in my opinion it should have been the subject of a National Preservation Order. It can never be replaced, represents a terrible loss to the area, and an indictment against those who permitted its demolition. (I would love those responsible to read this but they are probably now dead!)
Between the old 'Manor House' and All Saints Church was another very large pond said to have originally been used as a 'Moat'! I rather doubt this.
Further along Pound Lane, in the direction of Old London Road, and immediately past 'Smilers Farm' was an area then known as "The Plots". (I believe the area is now known as 'Plotlands').
Again, and not dissimilar to 'Fairmead Estate' 'The Plots', at that time, was  simply a large area of subdivided blocks of land, no made up roads or footpaths, and in wet weather the roads totally impassable for vehicles because of mud, with deep/dangerous ditches because of regular flooding during winter.
A Small, tarred shed known as 'Pump House Corner'
At the intersection of Burnt Mills Road/Pound Lane was a small tarred shed. It was generally known as 'Pump House Corner' I know not why, as at that time mains sewerage had not been provided.
At the same intersection was a beautiful, small thatched cottage occupied by Mr & Mrs Sneath and their two children, John and Jean.  I was great friends with them and we all attended North Benfleet Church of England school as it was known.
Approximately 300 yards up Burnt Mills Road and on the right was a block of residences, one of them occupied by Mr & Mrs Crick.  Mr Crick was a bricklayer and his wife ran a tiny shop cum telephone exchange there, a real gossip den, and many of the older women (my Mother included) would sit on a bench within the shop for hours on end discussing others business, and telephone discussions of recent origin with Mrs Crick.
Those days few people owned telephones and Mrs Crick, in addition to her role of shopkeeper, was also  the local  telephone operator when she  literally 'Plugged' users into an appropriate plug in a small switchboard situated in an ante-room  and would listen to all phone discussions). ALL calls went through that switchboard!  (At a later date a small automatic telephone exchange was built almost opposite our house in Pound Lane).
A short distance further, in Burnt Mill Road, was a farmstead owned by the Pratt family. (My sister Joan worked there as a 'Land Army Girl' for a short time.)
Finally, in terms of local identities and their homes, we come to Harrow Road.  At the intersection of Harrow Rd/Pound Lane and on the left, was a property owned by a lady we all knew as 'Brown Owl'…a well known and popular lady. She supervised the local 'Brownies' and also the 'Cubs'.
'The Old Harrows' originally a pub

Immediately next door to 'The Old Harrows' was a building used by the Salvation Army.  As a boy I used to go there with my sister rather than go to 'All Saints' (eventually returning  to All Saints) because we used to have evening  'Magic Lantern' shows (used to make us feel sick because of the  calcium chloride lamp) .  The Salvation Army also provided occasional bus trips to Southend or Clacton.  The building is still there.Further up the same road and on the right was a very large, rectangular two-storeyed building appropriately called 'The Old Harrows', originally a pub, occupied by Mr & Mrs Goodwin.   They had TEN children… only one of them being a boy and one of my best friends called 'Bobby'.  In the other half of the same building a girl called Jean Bragg.  (At the time of writing she still lives there.)
The War Years
I distinctly remember the whole family sitting down in front of the battery operated radio at 11a.m one September Sunday morning during 1939, when the Prime Minister addressed the nation telling us we were in a "State of War !".  To my young mind I construed it as a "State Of Excitement".  We expected bombing etc to start immediately but this did not happen. (History records this period of time as "The Phoney War" …. Things soon changed.
Within months all households were provided with either an "Anderson Shelter" or a "Morrison Shelter".  The 'Anderson Shelter' needed to be constructed and placed into a large, three feet deep hole in the ground whereas the 'Morrison' shelter was for use indoors and resembled a very large, steel table.   The 'Morrison Shelter' was quite popular as it provided a very strong table especially for those having little furniture.  (Almost the norm in those days).  My Father elected to go for the 'Anderson Shelter' …. This meant my brother and I were required to dig the large, three feet deep  hole in order to erect the shelter within it.
The shelter was eventually constructed, covered with soil and my Father built wooden bunks for the family of seven.  (By now my Mother had had a fifth child – Patricia).   All went well until the onset of winter and the inevitable floods….. The shelter then became a mini swimming pool!  Fortunately the local Council subsequently arranged for contractors to line all shelters with waterproof concrete. (We eventually spent hundreds of hours within it.)
The 'Tank Traps' where the local children would learn to swim
The 'Tank Traps' extended across the fields for many miles, and I well remember them stretching from the Old London Road (parallel to Pound Lane) down towards Wickford.  The Tank Traps were about 10 yards wide, 5 yards deep, a 45 degree angle towards the sea and the other side vertical. The theory was that as tanks etc came lumbering along they would go down the 45 deg. slope and be unable to climb out!  I don't know what idiot dreamt up the idea but in war all the invaders would have done was run one large vehicle into the tank trap and tanks would be able to drive over the top.
As children we thought the Tanks Traps a marvellous idea…  It provided us with somewhere to learn to  swim and  because of the water table the Tank Traps didn't need rain…they filled automatically (in  many parts anyway and according to local topography).
We were forbidden to swim in the Tank Traps but took no notice. Most kids hid their 'bathing costumes', (all shapes and sizes) and because of the high clay content the kids 'bathing costumes', plus the wearers,  quickly assumed the same colour as the muddy water and the children looked as though they were Asians. (No offence intended).  To see the children on the banks of the Tank Traps after they had been swimming looked as though they were all deeply sunburned!  An unforgettable sight!
During summer the tank traps were infested with frogs, newts, water snakes and all sorts of horrible little creatures…
In many of the larger fields were erected hundreds of scaffold poles in the form of triangles with half inch diameter wire stretched between them, thus to prevent gliders landing. (Not dissimilar to the apparatus used by 'Tight Rope Walkers' (a local building contractor made a fortune).
The North Benfleet 'Home Guard' was formed with 'Captain Jackson' the local farmer as officer in charge and one of his favoured labourers as Sergeant!  My mates and I went and watched them on drill parade on Sunday mornings… Laughed out loud and were not only threatened with a clip round the ear but in the privacy of our own homes 'Persuaded' not to go anywhere near Home Guard activities any more'. (We still watched and laughed from behind hedges etc).
'The Victoria Cafe'
Opposite the Harrow Inn was a place called "The Victoria Café" and used as the local A.R.P. H.Q. and also by the 'Firewatchers'….. My Father 'Volunteered' for fire watching duties and frequently came home slightly under the influence of alcohol and for whatever reason stopped attending. (Probably because of my Mothers' influence).
Stealing Hand Grenades from the local Pill Box
Numerous Pill-Boxes of various sizes were built (I am in the process of mapping them) and a very large one near the Harrow Inn was used as a 'Magazine'… (Storage for explosives).  A friend of mine called 'Colin Keeble' (a most mischievous boy) suggested that being small we could easily get into the Pill Box containing the explosives. (Apparently he had already reconnoitred the site). We easily slid into the Pill Box through the slits used for gun ports.  When inside we saw all sorts of green metal boxes and decided to take one of the smaller ones with us. We thought it contained bullets. A short way down the road we undid the securing clips and were shocked to discover that we had pinched a box of hand grenades!
I immediately thought the best thing to do was to return the box from whence it came and we proceeded back down the road to the large Pill Box… To our utter dismay! We saw a REAL soldier going in there. Panic stricken we decided to throw the box of grenades into the Tank Traps and decided, if questioned, to deny all knowledge of the grenades. Nothing was ever said and to this day the grenades will still be (deeply buried) there.
Recently I read an article in which an English gentleman is seeking information from those of my age regarding the permanent placement of searchlights during WW2.  I propose sending the following story to him as it has puzzled me until now. Perhaps one day I will find the answer.
During 1941 I was on my way home from North Benfleet School and using a short cut down Hall Road.  I saw a number of trucks delivering hundreds of sheets of corrugated iron into the field directly opposite Hall Cottage. Within a few days a large number of workmen had erected a circular corrugated building about eight feet high and approximately 150 feet (possibly more) in diameter).  It did not have a roof. At the entrance to the field, and in Hall Road, a sentry was stationed for the whole of the time and when I asked him one day what was being built he told me to "Sod Off!"
I nonetheless kept my eye on the development and on a later occasion saw about five lorries delivering hundreds of boxes with 'OSRAM' printed on the sides.  I also saw boxes with 'Mirrors -Handle with Care' printed on them.
A couple of days after that and from the direction of Harrow Road I saw wooden poles with power lines hanging from them and coming from the direction of the Arterial Road. (We had only gas). After that little movement was evident and people, myself included, simply thought it to be a store of some kind.  Shortly after and whilst riding my bike down an unmade road called "The WICK" I observed another such structure. I forget their actual locations, but I also saw more identical structures in my various peregrinations throughout the area. (I told my Father but he seemed disinterested, although warned me to keep away from them!)
About two weeks later we experienced an air raid at about 2.a.m. The weather was cool and overcast. The bombers were above cloud, flying low and on there were more of them than usual and making the same typical unsynchronised sound from their engines and unmistakably German aircraft.  Suddenly and to everyone's amazement the whole place was lit up to such degree it was like daytime again.  Within minutes we received more bombs than at any time of the whole war.
Illuminating Devices
Clearly, what had happened was that some 'Boffin' had invented a form of huge stationary, illuminating device which he MAY have thought would blind the German pilots. Maybe it did, I will never know. What in fact happened was  that ALL of the  'Illuminating Devices' came on at the same moment…the cloud base reflected the light and we were and truly "Lit Up"!  What I DO know however, is that within two weeks all of the corrugated iron structures were removed.
I could go on for hours about the awful bombing we endured in the North Benfleet and surrounding areas.  We had Land Mines dropped on us, Incendiary Bombs, the unforgettable 'Battle of Britain' overhead and with parachutists descending in the area (One in the field next to our own) ….Endured 16 air raids in one day whilst at school and actually witnessing the horrific and unforgettable sight of one of our own pilots being shot whilst descending using his own parachute in the direction of Rayleigh.
In our school grounds an 18inch thick, brick walled air raid shelter was built, roofed with concrete slabs and wooden forms for us to sit on.  There were no windows of course and  therefore my job, immediately the air raid siren went was to grab the 6 volt light ( actually a glass wet cell radio  'accumulator' and to switch it on I had to connect two clips to the 'Positive' & Negative' terminals to illuminate the tiny bulb.
On a number of occasions, and during successive raids, I used to sit next to my newly found girl friend, often switched the light off and have a quick kiss and cuddle in the pitch black darkness….. The teacher then used to say, "what's the trouble with the light Peter?"..And I would say, "Sorry miss, I have just bumped it!".. We would then have another quick kiss and I'd re-connect the light again.   All history now I'm afraid.
Pre-War North Benfleet.
I consider myself privileged to have lived in North Benfleet and also to have experienced the true form of 'Constable Country' as it was prior to WW2.  In those days, there were few motor cars on the road, most farmers used Clydesdale horses to plough their fields and during the 'Haymaking' season pulling huge hay-wains, most especially during harvest times.  I don't recall ANY tractors in North Benfleet during those pre-war years.
Pre-war we had a huge orchard behind the house at Hall Cottage. During summer months and when the fruit was ripe we had an apple/pear stall outside on the side of the road and cycling clubs would pass by and buy fruit at 2d per pound.I had the pleasure (during early 1944) when WW2 seemed almost over, of actually spending three weeks working for a man called 'Mr Keeling' Burnt Mills Road), who owned a huge Steam Traction Engine plus all of the ancillary equipment for chaff cutting, threshing equipment etc.  We travelled from one farm to another dragging the equipment behind the traction engine somewhat resembling a train. It was like turning the clock back 100 years.
'Walls Chocolate Ice cream'  had just come on the market and although we couldn't afford a ' Choc-Ice' we could buy a 'Jack Frost' triangular ice stick (1d) from a man that pedalled a huge three wheeled ice box around, ringing his bell and shouting "Walls' Ice Cream" etc.
When my Grandfather came down from London I used to accompany both he and my Father in a pony and trap to outlying pubs. Enjoy slices of bread and cheese and, for me, a bottle of 'Tizer the appetizer" …. My Father & Grandfather, needless to say, drank beer…and lots of it. It didn't matter as the horse knew its way home!
Sadly, we will never again experience such a tranquil rural life. We always had plenty to amuse ourselves.  The present generation will never know what they have missed. What a pity.