Tarpots Corner changes in 2012
All change again!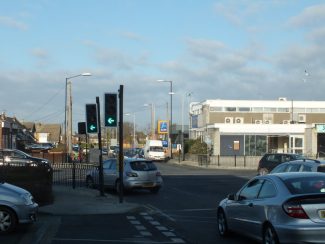 In the film "The Great Flood 1968" it clearly shows traffic lights at Tarpots Corner junction. However, these were removed in 1989 (edit to article on 1st June 2020. Previously we said 1972) and replaced by double mini-roundabouts.
The London Road (A13) through Tarpots was only two narrow lanes in either direction.
The roundabouts did allow you, if you were travelling westward along the A13, to turn right into Rushbottom Lane allowing traffic to go to the Focus DIY store.
After the store closed in June 2011, the site was eventually redeveloped and opened as an Aldi in October 2014.
At busy times the double roundabout could become a bit confusing for drivers not used to the road layout and vehicles coming from a number of directions.
As part of the £63.5 million traffic flow improvements to the A13, A130 and Sadlers Farm Roundabout, the stretch of road between Sadlers Farm and Tarpots was to have its four narrow lanes widened to 3 metres each and the mini-roundabouts removed and replaced with traffic lights. Work was scheduled to start on 16th January 2012 and expected to be completed in time for the 2012 Olympic Games Mountain Bike event on Hadleigh Downs. This was part of Essex County Council's plan for the A13 Passenger Transport Corridor.
So work began to change the layout, widen the road and install traffic lights and incorporate bus lanes on the A13. The result was traffic lights on all four roads meeting at Tarpots Corner; the High Road, London Road and Rushbottom lane with filter lanes for the right and left turns.
The other change was that traffic could no longer turn right into Rushbottom Lane if travelling west along London Road. Instead traffic had to continue to Sadlers Farm Roundabout, which had also been drastically changed, and come back down London Road in an easterly direction to turn left at the traffic lights.
Essex County Council newsletter in November 2010 (4 mbytes)