The Methodist Church in South Benfleet 1856 - 2011 Part 3
Extensions needed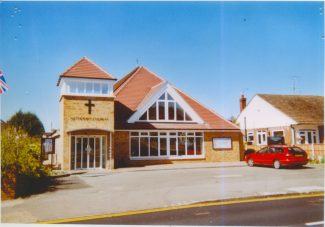 By the 1950s the youth work, in particular, was flourishing and congregations increased during the ministry of the Rev Fred Carveley (1952 to 1957). Extensions were planned, Wesley Hall opened on 23rd April 1955.
Further expansion was carried out with the construction of three rooms named in memory of past workers – Mrs Dorrie Downer, Rev Fred Carveley and Mr Jack Anthony these rooms were dedicated on 7th May 1966.Subsequently further improvements were made with much of the remedial work was carried out voluntarily by willing members.
It was becoming very evident that there was a bigger task ahead.  The kitchen was wholly inadequate for the needs of the Church with the ever-increasing number of functions that called for the provision of hospitality, to say nothing of compliance with Health & Hygiene Regulations.
At the same time the toilet accommodation was outdated and facilities for the disabled were non-existent.  Add to that the continuing problems with flat roofs, a decaying heating system and a very unsafe ramp connecting parts of the building and there was a building scheme in the making.
The second year of Rev Nick Jones' time as minister the Church Stewards seriously discussed the matter.  They in turn took the idea to the Church Council that everything other than the Church itself should be demolished, and a fresh start be made.
The Welcome Area
A need to create premises to replace, at least temporarily, the loss of rooms at the rear.The Welcome Area has become a centrepiece of the Church's witness in that it makes the Church visible to passers-by and opens up the building to the community even more than previously.
Incorporated in the Welcome Area is a tower that is illuminated at night. The symbolism behind this is that the Church is a beacon to the neighbourhood ready to welcome the community into its walls. The Welcome Area  was dedicated in July 2005.
Rebuild
The Steering Group met countless times the discussions centred on the need to provide a building that fitted the 21st century and which would be attractive to the community at large as well as suiting the needs of the present Church.  
The manner in which the premises are now being used is testament to our dedication to provide pleasant, flexible and acceptable facilities.
So we proceed further into the 21st century to carry on the witness for God so well maintained by our forefathers over the last 155 years.
The church is on the web at http://www.benfleetmethodist.org.uk/
John Downer      January 2011