George Kernahan Gwynne Bettany
The "Week-end" author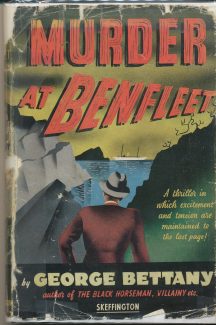 George Kernahan Gwynne Bettany, local thriller writer died in 1949 aged 58. George, the son of Dr and Mrs G.T. Bettany, was born in April 1891. He was educated on HMS Worcester, The Incorporated Thames Nautical Training College at Greenhithe for those who would later join the navy. However near the end of his training he was discovered to be colour blind, which mean't the end of his naval ambitions.
Following that disappointment George  left England for Canada where he worked as a farmer in Saskatchewan until the start of the first world war.  When war was declared, he joined the Canadian "Rough riders".  After sailing to England for training they moved to France and Belgium where he was commissioned and served on the Somme until the end of the war.
In the years immediately after the war he met May and they married in 1923 at the St Pancras Registry Office. Shortly afterwards they moved to Winter Gardens on Canvey and after a couple of years there, to Dyke Crescent near Canvey Village.  Finally in 1938 the family moved to 88 St Mary's Drive, South Benfleet where he lived until his death. His grave is in St Mary's churchyard.
From 1931 onwards in his spare time  he started to write novels and short stories, often about adventures set in Canada and these were published before and after the second world war. Working from 1935 for the Spectator during the week, he gained a tag as the "Week-end author ".  He wrote 11 novels and several short stories including Murder at Benfleet, and Manhunt ( published posthumously) .  A list of titles can be found at the end of this article.
see May Bettany the artist.
The Daily Sketch when reviewing his novel "Villainy" had this to say:
"Never in the history of literature had a book a truer title. This is a fast moving crime  without a shadow of doubt"
If anyone has a copy I'd love to read it.
Novels :-      Dangerous haven, Man hunt, Silent mountain, Secret of the swamp. Black horseman, Valley of the echoes, Scarbrow, Talking waters, Valley of lost gold, Murder at Benfleet, and Villainy.
Short stories :-    Creatures of the snows, Creatures of a Canadian lake and Pinniped people (Falcon Nature Series published by Frederick Warne and co)
Our thanks to May and George's son, Mr G. Angus Bettany, for the biographical information.