Hopes Green Stores, 209 High Road
My Parents Shop in the 1960s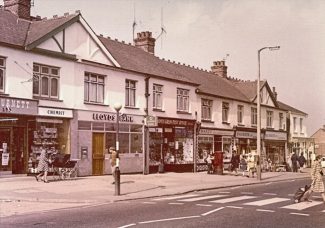 My name is Stephanie and I'm recording these memories in 2017 at the age of 59, mostly they are my own remembrances with help from my diaries written at the time (and long consigned to a remote cupboard) but I've filled in some of the background that "went over my head" as a child from later conversations with my Mum and Dad.
In 1965 when I was 7 years of age my Dad bought a shop in South Benfleet High Road, and we lived there for seven years until we sold the shop to Mr & Mrs Cotterill in 1972 (a letter from some old customers told us that it changed hands again in 1975 when Mr Cotterill sold it to a Scottish couple).
Our family consisted of :
Dad –  Frederick Thomas Peace Sands  (Peace was one of his given names because he was born on Armistice day in 1918 in Oxted Surrey)
Mum –  Joan Frederica Sands (Nee Swaby, born 10th October 1919 in Twickenham)
Nan – Lavina May Harriet Grace Swaby (born 26th October 1886)
Me (Stephanie Joan Sands)
"Nicky" – our brown and white "57 variety" dog.
From Hornchurch to Benfleet
My Mum and Dad had never owned a shop before, they lived in Hornchurch (near Romford) and my Dad was an electrician at the Blue Circle Cement works in Grays and my Mum who had been a telephonist had stayed at home since their marriage in 1956 to look after me and my Nan who had always lived with us. The cement works was a very dusty environment in which to work and although cement dust wasn't considered particularly dangerous, Dad was worried about constantly breathing it in. He used to come home covered in dust, it was often all over his clothes and skin and to make ends meet, he had to work extra shifts and all the weekend overtime that he could get.
Although we lived in a nice little bungalow and there was always plenty of food to eat, I remember my Dad's shoes having actual holes right through the soles and he stuffed a layer of  cardboard inside to cover the holes because he didn't have enough money to buy another pair yet.  At the time I didn't realise that it was a money issue, Dad put cardboard in his shoes because they had holes and that was just how it was. Mum told me many years later that Dad had felt becoming a shopkeeper would be the  best way to provide for us all.  The shop that he bought was called Hopes Green Stores and the address was 209 High Street, it was on the corner of Brook Road and was a "Newsagent, Tobacconist, Confectioner and General Store". I remember the living accommodation that came with the shop was very old fashioned and poorly decorated, nothing like the nice bungalow that we had been living in. Behind the shop was a big stock room and then a narrow passage to a small living room which we had to use as both a "lounge" and "dining room" and through that was a small kitchen. Upstairs, there was a little long- shaped bathroom on the landing and then more stairs up to the bedroom which my Nan lived in and another bedroom where my Mum and Dad slept. To reach my bedroom which was right above the shop itself, you had to walk through my Mum and Dad's room so to avoid disturbing them if I wanted to go to the toilet at night, I had to have a commode in my room which I hated because the plastic pot in it always smelt of the bleach that was used to clean it. In the corner of my room there must have been some serious damp ingress from the roof because a strange flower-shaped fungus grew there, looking back, I'm a bit horrified by that but at the time, it was just part of life; when I got a bit older, I used to chop it off every so often but it always grew back in the same place !
When we took over the shop it was a somewhat depressed business; as is usual, we bought the leasehold, the business and "the stock at value". At the stocktake to value the residual stock, it was obvious that many of the items were pretty elderly and really not suitable for sale any more; I particularly remember an ancient looking display card hanging up full of little bottles of hard blue pills called "Liver Pills". I dread to think what might have been in them and so did Dad, needless to say, he consigned them to the dustbin straight away. Another old fashioned item was a display card of "Reckitt's Blue Bags" which my Mum identified as a product used to whiten old cotton when hand washing it and which, interestingly, she said was also used to stop bee stings from hurting. I now know that the chemical in them was washing soda so could have worked as it is alkaline; certainly, Mum said that Nan had used it on her for stings when she was a child and it worked well.
Mum and Dad worked hard to increase trade in the shop but struggled, as their inexperience led to some mistakes; the most problematic one being to extend credit to some customers and then have a hard time recovering the money owed to them.
Learning the ropes
Despite my young age, I very quickly became used to helping out in the shop and, as soon as Dad deemed me old enough, to serve the customers as well. I was taught to say "Good morning (or afternoon),  how may I help you ? " as a greeting and when speaking to a customer (even if I knew them quite well) to call them "Sir" or "Madam" respectfully and Dad was very strict about that (it perhaps sounds a little formal now, but it was just normal and polite at that time).  A child of my age couldn't have been employed as a shop assistant, but there were no laws to prevent a member of the family doing it for free and I was a sensible and serious child even then, aware that the shop was what paid for us to live. To my school friends I lived in a wonderful place, I was allowed to read all the comics as long as I was very careful with them so they still looked new afterwards and I was allowed all the sweets I wanted as long as I never ever took anything without asking first. In actual fact being allowed all the sweets you want quickly means that after the first rush of enthusiasm, you are not that interested and I probably ate less sweets than the other children because they weren't a treat anymore. Since Mum and Dad were always working in the shop, I enjoyed being there with them and also enjoyed talking to those of the customers who had the inclination.
One couple I particularly remember talking to were Cyril and Hettie Dent, who lived in Kents Hill Road when I first knew them and then in Uplands Road. They were a nice, elderly couple who always had time to talk to me and when Cyril discovered that I was very interested in science, he gave me some nice old books on the subject to encourage my interest. I never forgot his kindness and interest and indeed, we stayed in touch by letter for the rest of their lives, which is how I know a little about Benfleet after we left.
City gents with their bowler hats
The shop had busy and quiet times, particularly in the early days; there were two main groups of customers who kept it going: one group were the "city gents" with their bowler hats and rolled up umbrellas who would come in on their way to the station and buy newspapers, cigarettes and sweets. They would also come in on their way back home to buy evening papers and more cigarettes and sweets for the evening. If we were very lucky, some would buy a box of chocolates as a present to take home for their wives or a cigar or two as a treat for themselves.
The other group were the workers at the clothing factory just down Brook Road on the opposite side; I think in those days it was called the Trafalgar Clothing Company. It must have been very hot in that factory in the summer; at break times (mid morning, lunch time and mid afternoon) the machinists would rush out and into our shop for cold drinks, ice creams, chocolate and cigarettes. Many would  "put it on the book" – quite literally a little notebook with their name on it -and they would come in at the end of the week when they were paid and settle up. Even in the winter the demand for cold drinks was high, so I guess the factory was hot and dusty even then. There were a few young men among them and also a few older men, but most were young women. As was the fashion among youngsters at the time, the factory girls would all be in little short skirts and cut off tops with bare midriffs and I think my Dad was a little shocked at first, but they were all lovely people and he soon enjoyed a laugh and a joke with them all.
Among the old items at the back of the stock room when we took over were a pile of "Last Will and Testament forms" designed to provide the format for you to write a Will at home. People were just beginning to become aware of the health risks of smoking, but not yet taking those risks particularly seriously and Dad, who had a quirky sense of humour, pinned up one of the forms prominantly beside the shelves of cigarettes and pointed them out to the factory girls when they came in to get their "fags". To his amazement they all thought this was such a great joke that when they discovered he had a whole pile of them, they wanted to buy them and Dad quickly sold out, such was the humour of the time !
Finding new stock to encourage more customers
Dad was always on the lookout for something different to interest the customers and encourage them to come in, with three sweet shops in close proximity, even though being a newsagents gave us an edge, it was vital to keep the takings up. We mostly ordered our stock from travelling salesmen who would be employed by a wholesaler to visit the shops in an area to take orders which would then be delivered by them, usually about a week later. One thing I remember from around 1968 was paper knickers; a traveller brought in some samples amongst his other wares; they were designed to be disposable, so you didn't have to do the washing if you were on holiday. They were both somewhat before their time and also before material technology had really made them usable. The factory girls were very amused as were the older men who worked there and bought them for their wives to try for a laugh; we quickly sold out, but didn't repeat the stock as Mum and I discovered from the samples Dad gave us to try that because they really were made of paper, the slightest amount of sweat would make them fragile and they would sort of disintegrate which wasn't a good selling point !
Cigarettes were probably our biggest profit item and Dad expanded the trade by trying a display case of cigars on the counter, both tins of small ones and the big fat kind that sold individually which went quite well. He also kept fragrant pipe tobacco in stock and would do special orders for people who wanted the very strong ones such as "Clan". Unfortunately, Dad rather liked to have a cigar himself and would sometimes have one as a treat while he was "making up" the paper rounds, but since they were very expensive, I think he felt rather guilty that he was "smoking the profits" that certainly in the early days, he couldn't afford. I remember the most popular brands of cigarettes were "Players" which were bought more by older men (they were still sold in packs of 5 cigarettes as well as the more common packs of 10 or 20) and "Number 6" which were bought more by younger people but Dad stocked a multitude of brands including some very smelly French ones. "Golden Virginia" and "Old Holborn" were the most popular pipe tobacco brands, some of the more obscure and very strong ones he stocked were so fragrant that they had to be kept in old biscuit tins so that the smell didn't pervade the shop.
Open all hours
Over the years Dad added a limited range of tinned foods for the convenience of his customers and some simple patent medicines, cough mixture, aspirin, Vick Vapour Rub, Calomine, bandages and sticking plasters and such like. It became well known among our customers that Mum and Dad, even when the shop was closed, would willingly open up and serve anybody who needed such things. The only time I ever remember Dad refusing a customer was one who threw small stones at his bedroom window very early on a Christmas Day morning to get Dads attention and when Dad went down, expecting a request for medicine or food,  wanted to buy a packet of five Players cigarettes. Poor Dad was always so tired from having to get up and prepare the paper rounds, so being woken early on the one day he didn't have to was just too much for him and the customer was sent away without his fags and with "a flea in his ear" as the saying goes for a sharp reproof.
The paper rounds were the bane of our lives, the big packets of newspapers and magazines would be delivered to the shop about 5 o'clock in the morning and Dad had to sit with the "round books" containing a page for each customer, showing what papers, magazines and comics they had ordered and make up each round. There were about twelve paper rounds and for each customer, he had to write the house and road on the top of the paper, fold in any magazines and comics they had ordered due on that day and then place it into the big canvas bags that the paperboys went out with. Being a paperboy was a very desirable job to youngsters then and we always had a waiting list of applicants, but some youngsters were better than others at it and if a paperboy didn't get the deliveries right, the phone was quickly ringing with complaints and Dad had to leave Mum in the shop and drive out to sort out the muddle. If a paperboy went sick then again, Dad had to go and deliver those papers, as soon as I was considered old enough, Dad would take me too and we would do it between us or on some occasions when I was older, I would be sent out instead. If two or more paper boys were sick it really was a disaster ! Kents Hill Road, Constitution Hill, Thundersley Park Road, Clarence Road, I still remember all the familiar names and I could have walked those paper rounds in my sleep by the time we left Benfleet.
Unfortunately, one young lad who had a round with several steep hills in it discovered that Dad was a bit of a "soft touch" and would still pay him if he "came over sick" after starting his deliveries. It took poor Dad some weeks to realise that this lad always became "unwell" just as he came to the uphill part of his round and would return to the shop with the rest of the papers, so Dad would have to drive me to the bottom of the hill and I'd struggle up it with the heavy bag (and on days when there were magazines as well – those canvas bags really were heavy !) Needless to say, when Dad caught on to what was happening, the lad had to be sacked and Dad was careful to choose a more robust chap to replace him.
Serving in the shop
While having to do paper rounds was my least favourite job and serving in the shop was what I liked best, there were plenty of other tasks, some I considered good, some bad. One supplier would send a huge parcel once a month with a strangely diverse set of magazines which it was my job to check off against our order to ensure that we had received everything we'd paid for. The magazines that I was really interested in were the DC Comics, they were graphic novels featuring Batman, Superman, Iron Man and Wonderwoman to name but a few. I was absolutely hooked on these and my reward for the onerous task of checking the huge parcel was to then have time to read as many as I wanted (being careful that they would still look new !) and even, if there was a really good one, perhaps be allowed to keep it. In addition to the DC comics, there were a selection of comics clearly aimed at very young children and a selection of what is best described as "Top Shelf" material. By this, I mean the sort of very mild 1960's pin up magazines, tasteful photographs of pretty young ladies in swimming costumes or, in the more daring cases, bikinis. Despite being so innocent, some came sealed in plastic to avoid shocking those of a nervous disposition (though we often found our customers had split the plastic and braved the inside pages without actually making a purchase ! ) and they were only ever displayed out of the way on the most inaccessible part of the top shelf to avoid offence. I have to smile when I remember one particular occasion, I was checking these books and happened to notice that although the childrens books and DC comics were as expected, there was something strange about the top shelf books. "Dad" I said, "Everything is OK, but instead of ladies in some of the books there are pictures of gentlemen in swimming trunks instead, is that OK and can I read the Batman comics now ?". Dad was mortified that his young  teenage daughter had been exposed to what I now realise were magazines aimed at an entirely different audience and he gave the salesman a good talking to next time he came, but I had no interest except to get to my treat of  enjoying those Batman comics. After that, it was still my job to check the magazine order but Dad used to open the parcel and have a quick check first, which at the time I didn't understand !
One job that thankfully only came once a year was rolling Christmas wrapping paper. Dad had found a supplier who sold it very cheaply but the catch was we just received a parcel of 2000 sheets of each of the six different designs. We sold it as six different sheets for sixpence, that is 6d (six old pennies, I'm talking about a time before the Decimalisation of our currency which happened on 15th Feb 1971). It was nice quality and sold out really fast, but the job of taking a sheet from each of the piles and rolling them together secured by a little elastic band seemed to take me forever.
Decimalisation in the early 70s
Decimalisation was quite a problem to many of our customers and indeed, to Mum and Dad. Children were taught about it at school in the months leading up to the change so I was fine, but poor Mum and Dad really struggled with converting everything from "old pence" to "new pence" and for a while, many items were marked with both "old" and "new" prices. Many of the elderly customers never did get the hang of it, they would just extend a handful of change to whoever was serving them and say "Please just take what you need, I can't understand this new money !".
The evening papers were delivered by van; the chap would drive up and then either Dad would rush out to the van, open the sliding side door and take his bundle, or if he wasn't quick enough, the driver would get them out and throw the tightly tied bundle through the shop doorway shouting "papers !" loudly as he did so. One afternoon, this paper drop nearly cost Dad his life; just as he was taking the bundle out of the van another vehicle hit the rear of it very hard, propelling it several feet forward, and the heavy sliding door banged shut with the momentum, striking Dad quite a blow on the top of his head. Undoubtedly, if he had still been leaning in and that door had struck him on the neck, he would have been decapitated. Dad initially thought that the van driver had been hasty pulling away, but when he realised what had happened and the close call he'd had, he went inside and had a large glass of whisky – something I'd never seen him do before (whisky was only kept in the house to have a little in warm milk as "medicine" if Dad had a bad cold).
For the most part, our customers were very much our friends, but  most of their names are now lost to me in the mists of time. Miss Moss was a very elderly little lady, very fragile looking, who lived in the house exactly opposite on the High Road, number 214. She used to cross the busy High Road every morning to get her morning paper and Dad used to worry about her crossing the road. One very icy morning he just couldn't bear the thought that she might slip, so he took the paper over just before the time she would come and put it through her door, very pleased that he had saved her the danger. She obviously wasn't worried about the ice however, because she came over to thank him for his kindness, which rather defeated the object, as he ruefully said ! On another occasion, she came over in the morning very distressed and said "Oh dear ! Mr Sands, there is a dead man in my garden and I don't know what to do". Poor Dad rushed over expecting the worse and found a tramp, very much alive when poked, who had been sleeping under a thick bush in her very overgrown front garden. Tramps were much less common by then than they had been in earlier times, but you did still see the occasional one about and I remember Dad laughing in relief when he came back to tell Mum about it.
One of our other customers was a lady called Kitty Lee who had been a local film star; I have her autograph, so obviously I chatted to her, and a letter that indicates she regarded Mum and Dad as friends, but unfortunately I don't now remember what we spoke about.
The elderly lady customer who was a bit of a character
Not all of the customers were as nice unfortunately; one "character" that I remember from the early days of shopkeeping was an older lady who, after we discovered what she was up to, we nicknamed "twitchy". Initially, Mum and Dad thought she was a nice old lady and felt very sorry for her as she seemed to have a problem with muscular twitches of her hands and arms. She would came in, select a newspaper and put it on the counter over where the bars of chocolate were displayed and then always ask for an ounce of some of the sweets which were sold from large jars by weight. This meant that Mum or Dad had to lift the jar down, go to the scales to weigh the sweets, then put them into a little bag and replace the jar onto the shelves. Mum was particularly sympathetic towards her and would ensure that she "weighed heavy", charging only the price for the ounce but probably giving her nearly twice that weight. It was not until one day when Mum was serving her and Dad happened to be standing in the stock room, out of sight but in a position where he could clearly see her standing waiting, that they discovered she was stealing chocolate bars. To his amazement, as soon as Mum turned away to get the sweets, the random "twitches" of her hand on the paper swept several chocolate bars from underneath the paper and down into her large handbag. Dad was so horrified that he didn't challenge her; after she left he told Mum who had trouble believing that such a nice little old lady would steal from them. Just in case it had been a mistake – they still didn't realise that all the twitches were fake – they decided to just keep an eye on her and sure enough, the next day she repeated her actions, and the next ….. after that Dad finally realised she was an accomplished thief and the next time he pounced and when adding up the sweets and paper said "Oh yes, and the chocolate bars that are in your bag …..". She pretended to have put them in accidentally and with many more twitches paid and left, from then on she was closely watched whenever she came in and strangely the twitching ceased …… from chatting to the other shopkeepers in the High Road, Dad discovered that she was well known for these little tricks and had been banned from several shops entirely.
We all got on well with the other shopkeepers in that part of the High Road; there was a launderette a few doors along from us (towards the John Boscoe Hall) and the ladies from all the shops would be there late at night trying to catch up with their washing. I particularly remember Mrs Sharman who owned a double fronted hardware shop, I used to love going into her shop to buy little china gifts for my Nan with my pocket money. I was fascinated by all the stock which would not only be inside the shop, but displayed outside both sides of the door. I also remember that she used to have very pale blue or very pale pink rinses on her grey hair which I thought looked extremely smart as I'd only ever seen natural grey hair before.  From Miss Moss I later heard that the Sharmans had retired in 1972 and in August 1974 Cyril & Hettie wrote and told us that three new shops being built on the site of the Sharmans old shop were nearly completed and that the Labour Hall had been demolished.
Other shops that I remember are a little draper's shop which also sold some clothes and, I think, was next door to us and Newman's shoe shop, where one of the assistants was called Sandra. Having read an old letter from Miss Moss (dated December 1972), I know that the Newmans had a holiday in Vancouver in 1972 (worthy of note as foreign holidays were beyond our wildest dreams) and that they sold the shop later that year as well and moved to Cumberland Avenue. The Newmans were very good to Miss Moss; she wrote that they had brought her Christmas dinner that year and a big plate of turkey on Boxing day. Beyond the drapers and Newmans (going towards the John Boscoe Hall) was a small sweet shop and the launderette. The chap who owned the small sweet shop was a big built man who looked physically a lot like my Dad; I believe he was unmarried and he lived over the shop with a huge cat. Sadly, one day he dropped dead in the shop which must have been a terrible shock for the customer who discovered this. The first we knew was when customers started coming in and sympathising with Mum who happened to be alone in the shop at the time – the news had spread by word of mouth that the big man in the sweet shop had suddenly died and to many of our customers that had to be my Dad. The customers must have been shocked to find Mum smiling and serving as usual until they realised their mistake. The cat which had been let out in the confusion and wouldn't come to anyone lived for several weeks in the gardens at the back of the shops. Mum put out food for it every day and eventually helped the local RSPCA man to catch it, but I can remember being very angry with her because she said we couldn't give it a permanent home as Nicky our dog used to bark at and chase any cats he saw.
Dad's quirky sense of humour caused another misunderstanding with a few of our customers that Mum had to quickly sort out. The huge glass bottles containing boiled sweets to be weighed out for sale were extremely heavy and poor Mum was a very little lady, so she struggled to lift down the ones from the top shelf. One day as she was doing this, a bottle slipped through her hands and hit her on the eye socket causing her to develop a very nasty looking black eye and bruised cheek. Naturally, all the customers were very sympathetic and asked what had happened and after repeating the same explanation many times over several days, I'm afraid Dad's sense of humour got the better of him and when one of the chaps from the Trafalgar Clothing Company asked, he replied "Well, she was cheeky to me !". Dad would never have thought that anyone could have taken him seriously with that throwaway comment, he was a real "gentle giant", but several of the chaps from the factory obviously did and they came over just before closing time to "chastise" him. Poor Dad, horrified, had to quickly get Mum to come out to assure them that Dad hadn't ever laid a hand on her and when they had left, she apparently gave him a bit of a hard time about his sense of humour causing such trouble !
Further down the High Road next to the brook and the Junior school there was another sweet shop; I remember they had a big selection of the cheaper sweets like Black Jacks (liquorice chews) and Fruit Salad (fruit chews), both of which were eight for an old penny and tiny little boiled sweets called Tom Thumb drops, because they were so small; you got a huge bag full if you bought two ounces of them. Dad didn't approve of what he called "cheap rubbish" sweets, so he didn't stock anything like that; he was quite offended when he found that I liked them and he wanted to know why I'd spend my pocket money in that shop when there was a shop full of good quality chocolate that I could have just for the asking at home, but it was exciting to go with my school friends and spend my pocket money on what I fancied !
Buying warm crusty loaves from Smiths bakery
Other shops I remember were the off licence and a baker's which were down past the junior school on the opposite side of the road. Nan always used to have a glass of port and a biscuit last thing at night to help her sleep and Mum and I would walk down to those two shops and buy Nan's port and a cottage loaf (the shape that looks like a figure eight). Those loaves were wonderful – warm crusty outside and soft light inside, no matter what time of day we bought them the family treat was to eat the crusty top divided between us with butter and golden syrup on it !
Still further down the High Road beyond the school, I remember Hopes Green Post Office where Mum used to go to collect my Nan's pension. I still have a copy of "Wind In The Willows" that she bought me from there on one visit, it's very tatty now, but much loved. Beside the post office was Lloyds Bank; when I was a bit older, one of my jobs was to go down there with the shop takings and pay them in. Dad reckoned that it was safe enough, as no one would imagine a child had so much cash in her school bag; I was under strict instructions never to tell anyone that I did this and to go straight there, without stopping or talking to anyone.  I also remember a chemist, Burnett's, where Mum used to buy Yardley face powder and the bright red lipstick that she loved to wear.
Less clearly remembered there was a flower shop in the parade going down towards the junior school, which I think had a doctor's surgery in the accommodation over it.
I also know from a letter received from Cyril and Hettie in March 1976 that a new florist had then just opened opposite the John Boscoe Hall where there used to be an insurance brokers.
My primary and senior school days
I attended the Infants/Junior school in the High Road from when we arrived until 1969 and I remember a couple of the teachers, Mrs Burns and Mrs Frances, but I didn't like the school as much as the one I'd been to before we moved which was Langtons Infant school in Hornchurch. Langtons had been in a quiet residential road with a big playground with a mature tree in it and a small grass playing field and the classrooms were light and airy. The Benfleet Junior school seemed depressing to me as a child, I remember its dark red brick exterior and the small central playground surrounded by the buildings on all sides. Being so close to our shop, however, was a real bonus as I could run home at lunchtime and have plenty of time for a snack and then take our dog Nicky for a walk on the nearby recreation ground.
In September 1969, I left the junior school and started at Appleton Comprehensive which I attended until the 28th April 1972; I was in classes 1S/2S/3S and I remember Mr Haynes was the headmaster (who always wore a traditional black cape) and Mr Steer was my form tutor. I very much enjoyed my time at Appleton which I remember as a modern school with an interesting and inspiring group of teachers.
Although the shop was a big part of my life, there were plenty of other things to occupy my time. I went to Ballroom and Latin American dancing classes once a week at the John Boscoe Hall; I can't remember the names of the teachers (they might have been Sylvia and John), although I can still see their faces clearly in my mind. As well as thoroughly enjoying learning the dances, we all loved the mid-session break when we could buy packets of crisps and little bottles of Fanta orange and different flavours of Cresta (a lime green or bright pink drink according to flavour and advertised by a dancing polar bear wearing sunglasses with the slogan of "It's Frothy Man").
Joining the Guides
I also joined the 2nd South Benfleet Girl Guides group which met at a church hall further down the High Street (going towards Canvey); I was never much of a Girl Guide, I'm afraid, but I enjoyed going with my best friend, Jenny Smith, who lived in Hall Farm Road and another friend called Josephine, who's surname I can't recall. On the way home, we walked past a fish and chip shop where we would buy two pennyworths of "scratchings", which were the fried batter chippings which had come off of the fish in the fryer I believe and if we were feeling very rich, a pickled onion which cost one old penny. Gosh that tasted good, eating it from the paper as we walked home !
Jenny and I used to enjoy taking our dogs for walks over the recreation ground and when we were a little older, going up The Downs as well. The rec was also great for making Girl Guide trails and following them; little piles of stones and/or twigs arranged in particular patterns to tell the follower to go right or left or straight on etc. A great and rare treat, when we were older, and after many serious warnings to be careful and never talk to strangers, was to go on the train to Southend together to visit Peter Pan's Playground and walk along the Pier.  I used to love solitary walks with Nicky through the churchyard and on to the creek then along the raised bank opposite the station looking across at Canvey; he was a dog that was always ready for "walkies" and we covered many miles together over the years.
My Nan never liked living in the shop, she had been used to spending her days with Mum and I while Dad was working and although she would have been welcome to spend her time downstairs and perhaps even help out, she retreated to her own room, using it as a bedsitting room and seldom coming out. As a child, I didn't understand this problem and her need for more attention than my hardworking Mum could find to give her, but Nan loved me to sit with her and play simple card games and since I enjoyed that too, I spent many happy hours in her company, which also helped Mum and Dad.
The flooding in 1968
There are lots of other little cameos from life in South Benfleet that I remember such as the flood in 1968 when the brook, which was normally a little trickle of water deep down a concrete gutter by the junior school, flooded right up to the door of our shop but luckily, no flood water came inside thanks to a massive pile of sandbags that Dad quickly constructed as he saw the water approaching. One amusing incident after the flood was the disappearing doormat; just inside the shop door was a big old bristley doormat, very heavy quality, the kind that was made from coir. Even though the flood water had only splashed over the doorstep, really early the next morning, Dad washed out the shop floor with strong disinfectant and just while it was drying, he placed the doormat up against the outside of the shop door both to dry from its disinfectant wash and to indicate that we were still closed, although the lights were on. He went through to the kitchen and made himself a cup of tea, but when he got back to the shop and opened the door, there was no sign of the doormat at all. He searched quite a way in each direction but it was never seen again and Dad, who had been suffering quite a bit of theft from the shop around that time, was heard to mutter bitterly "they'll steal anything not nailed down around here !" but he quickly saw the funny side of the great doormat theft.
There was also a fire at the woodyard down beyond the pumping station; I can't remember the exact year but I think it must have been 1968 or 1969. As a youngster it was very exciting to see the flames leaping and the firemen trying to put it out, but the adults, of course, understood how serious it could have been.
At night oil tankers used to drive up and down the High Road going to and from the refinery on Canvey Island; we were used to the noise of these heavy vehicles and didn't think much about them normally, but early one morning, there was a bit of a crash that had us jumping out of bed to find a tanker had hit the telegraph pole opposite. It wasn't a bad accident, what we would probably refer to now-a-days as a "fender bender", but it made quite a noise and we were all initially worried about the possibility of fire because it was a tanker.
The ancient looking gas lamp that lit our shop during the power cuts
In the winter after we had moved to Benfleet, there were some power cuts in our part of the High Road and since candles wouldn't have provided sufficient light for serving customers, or been safe in a shop environment, all the other shops near us closed as soon as the power went off after dark. In the front of our shop was an ancient- looking gas lamp; I don't think it had been used for very many years and Dad remembered that during the stocktake he had seen a few boxes of gas light mantles that he hadn't thrown away. He was either very brave, or very foolhardy, because he decided to see if this ancient light was still connected to a live gas source and with Mum and Nan panicking that he would blow us all up, he fitted the mantle, turned the gas tap and put a match to it. The resulting light illuminated the whole shop beautifully and we were the only shop able to stay open, much to the delight of our customers who flocked to the light, with its promise of chocolate and cigarettes, like moths to a flame ! It took Mum and Nan quite a while to recover from their fright though – they had been sure it would be the end of us all !
Selling up to move away
Although by the time we left the shop on the 8th May 1972,  it was a thriving business, the long hours and hard work had caused Dad a lot of health problems. He was finding it a real struggle to get the newspaper rounds out and was unable to move around much without his two walking sticks due to arthritis in his ankles. Mum and Dad decided that they urgently needed to find a more easily managed shop and they sold the business to Mr & Mrs Cotterill. It took them a few months to find their next business, but we were able to go and live with Auntie Millie (an unmarried sister of Dad's who had a house in Reigate in Surrey) and the break did both my parents a world of good. On the 6th August that year, we all moved into a little village store with a bungalow attached in Clanfield (Hampshire) which they then ran until June 1978, when they retired. Thankfully, Dad's health improved greatly once he left the busy shop and before long he was walking without sticks again and the quality of life for Dad, Mum and Nan became very much better.
In June 2010 I came for a holiday in Essex with my husband, Dave, and we spent a day in South Benfleet so I could show him the area where I had done some of my growing up. We came to look at the shop where we had all lived, it was recognisable but at that time was a kitchen outfitters and the surrounding area of the High Road was very much changed. The new block of shops where Sharmans had been located made it seem very different, the house where Miss Moss had lived was smaller than I remembered and had been converted into a shop, the junior school also was smaller than I remembered and the clothing factory was gone. The recreation ground seemed to have shrunk since the days when Jenny and I walked our dogs there, but not really of course, it just seemed larger in my memory. Perhaps the part which seemed most familiar was the path where I used to walk Nicky overlooking Canvey Island. It was interesting to return and brought back so many memories but sadly my Mum, Dad and Nan are no longer with us so there was nobody who shared those memories to recall them with although I very much enjoyed sharing them with Dave.