Iris Sugg
Bletchley Park - The War Years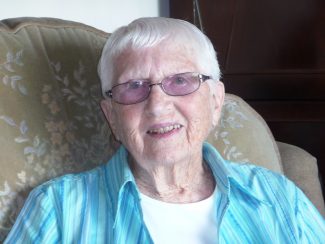 Iris Sugg's memories of her life spent in Benfleet are well documented on this site but she has also written her own account of how her life changed with the outbreak of the Second World War.
The following is Iris' account of her life at this time.
I WAS A SPY
By Iris Sugg
After leaving school my friend, Betty Miller, and I worked for the "Post Office" as clerks at their Headquarters in St. Martins Le Grande, London.
On the out break of war in 1939 our government made a law saying that all women of working age should be employed in work of national importance.  A circular was passed around the office asking for female staff to apply for training in the "Post Office Wireless Service" which was vital for the war effort. Betty and I decided that we would fill in the application forms.
SIGN THE "OFFICIAL SECRETS ACT"
After a short wait, the post arrived with an interview date which we attended and passed and were told to wait for a letter. In the meantime we were asked to sign the "Official Secrets Act" which would last for thirty years; strict silence about the very secret work in which we were to be involved.  We were also told that if the war did not do well and the very worst happened we would not be associated with the Post Office, we did not exist.
Soon we were passed on for training in London learning the morse code and radio procedure. On completion of our course in the capital we awaited our posting which could be anywhere in the country.  We were now qualified "wireless operators" and waited for the post giving us details of our "Wireless Station" postings.
…two teenagers who had never been away from home before were off on an unknown adventure to help the war effort.
The great day came very soon telling us we were posted to St. Albans and enclosing rail passes and other documents. On our arrival there we were to be met by a local P.C. who would find a billet for us. Thus two teenagers who had never been away from home before were off on an unknown adventure to help the war effort.
True to our instructions a fatherly P.C. was waiting for us at St. Albans station. He introduced himself and we produced our identity papers. We were then taken to a nearby housing estate and the door knocking commenced.  The P.C.'s  questions were standard "Good morning madam. How many bedrooms do you have and how many people live here?" If the bedrooms were all occupied we just moved along to knock at the other doors and then success.  A lady opened her door and responded thus. "My husband is serving abroad and I live here with my six year old daughter and I have four bedrooms". "Right" said the P.C. "These two young ladies will be billeted with you and you will be hearing from Social Services about your payment".  The owner had no choice, we were force billeted and the P.C.'s job was done.
Mrs Haymer, for that was our host's name was super. She became a second mum to two bewildered and frightened teenagers and we stayed with her during our posting at the radio station on Wood Cock Hill, St Albans.
INSTRUCTIONS TO REPORT FOR DUTY
Our bikes and luggage soon arrived and instructions to report for duty at the station. It was a good push up the hill but super on our return. Next day we made it and reported to the principal operator who inspected our papers and acquainted us with our duties.
The radio station was a series of huts on the hill top and a mass of aerials connecting them together. Tables and chairs filled the room and we were each allocated a space. The table had on it a radio, headphones, an undulator (I will explain its use later) pens, pencils and a mass of forms.
We had been losing our supply ships from German submarines. After Bletchley Park broke the German code we could avoid German war ships and submarines. Without our supplies we would have starved.
Back to the radio station.
Serving at our alloted space in the hut we were given a German frequency to tune to.  Donning our headphones we listened and copied down any message being transmitted in morse code. Sometimes all was quiet, others very busy. If transmission was too fast for hand we switched on our undulators which produced the message on tape which we later transferred to our forms, all in a block of five letters.
If we needed to vacate our place we had to ask for cover. Transmission had to be covered around the clock. At this time we had no idea what happened to our work, only that dispatch riders came each night and took the work away.
Throughout the war this work continued. The Germans not knowing that their messages were being decoded at "Bletchley Park".
…we often had to dive for cover in hedges, abandoning the bikes and arriving after "all clear" muddy and shaking.
Betty and I continued to work our shifts at the Station, Summer and Winter with very little leave. Often during the dark there were air raids. Caught out in the open en route to work we often had to dive for cover in the hedges, abandoning the bikes and arriving after "all clear" muddy and shaking. Those who had covered for us were very pleased to see us, so we continued until the war ended.
After the Official Secrets Act ended it opened so many doors to war time secrets. "Bletchley Park" was one of them. We learnt that work from all radio stations was sent there for decoding using "Colossus" and "Enigma". The Germans had no idea our operators were spying on their transmissions and using data collected to our advantage. It was said that as a result of this the war was shortened as we were not starved into submission, our supplies were redirected and not sunk by the German war ships and submarines but safely docked at home for us.
When the Germans capitulated our radio stations were no longer needed. Equipment was destroyed and papers burned. Huts became shells and operators returned to civvy street, Betty and I did not return to our peacetime jobs, we both married and became working housewives.
I will never forget those years in the "Wireless Service" and feel a great pride that I helped in our war effort.
THE POST WAR YEARS
Sad to say my dear friend Betty died. Together for so many years both at work and school. I still miss her very much.
I married in 1944, lived in Benfleet and had two sons who are both married and have produced delightful grandchildren for me.
Last year I visited Bletchley Park. I had kept my war time notebooks and paper work and took them with me. On arrival I contacted the appropriate department to have them placed in their archives. They were delighted to acquire them and took my name and address.
Several weeks later I received a large package from Bletchley Park. To my surprise on opening it, it contained a large certificate thanking me for my wartime work, several magazines, a free pass for "The Park" and a beautiful lapel badge saying I was a "Bletchley Park" veteran. I wear this with great pride and feel sad that my dear friend Betty is not here to share the same honour.
These wartime experiences seem a long way back. I hope you have been interested to hear about them.  If we had had modern computers at that time we wireless operators would not have been needed.