Memories of Benfleet During The War
Remembering Benfleet and other parts of Essex during WWII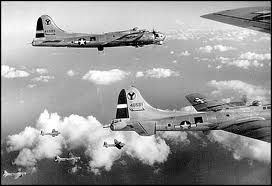 I remember, in what must have been June 1944, when I and our neighbours, the Brays, were watching what seemed like an endless stream of lorries loaded with soldiers coming down the hill (High Road) and on to somewhere, with hindsight probably Tilbury or some other port, for embarkation to the D Day landing beaches. We kids were jumping up and down and shouting and waving and the soldiers were waving and shouting back and to our delight throwing sweets, except one who threw one of those hard tack biscuits which hit Austin on the head and felled him like a pole-axed ox, which brought the cheering to an abrupt halt as we were all convinced he was dead, which he wasn't, merely unconscious. It wasn't long before he recovered but it made us a bit wary about cheering them on.
I was in Hockley one day where my grandparents lived, Uncle Lou was away fighting in Burma and Auntie Rae was somewhere with the ATS. Julien and I had crossed the railway near the station and were in the woods and fields beyond the tracks and were watching a number of American B17s returning.
We were jumping up and down and waving to greet them and watched them disappear out of sight, then not long after that came some stragglers limping back home, just a few, and as they passed overhead one had such a huge hole in the wing that you could see clear through it, and swarming all round them were lots of fighter planes to make sure they would not be attacked again. Even to this day I cannot think of that bomber without a catch in my voice or my eyes watering, I still wonder if they all survived, I hope so as they had got back so far to get to Essex.
My father worked at Thameshaven, he didn't make it into the Army as he had wanted because he spoke a number of languages including German to a very high technical standard and was involved in translating German oil processing methods into English for use at Thameshaven and no doubt other places, though he maintained he would have been safer in the Army as Thameshaven was a prime target for the German air force.
On one occasion a tanker was been berthed on the jetty when it set off a magnetic mine, sadly the berthing master and his crew were killed. Others on the jetty rushed to grab a huge fire extinguisher, which was so large that it had to be mounted on wheels and had to be moved by three or four men. When they tried to move it the wheels collapsed as it had never been moved in all the years it had stood there, mind you what effect it might have had on fifteen thousand tons of blazing oil is somewhat open to speculation.
His brother Donald did his bit, first in the desert recovering broken down or burnt out tanks, then as a bit of a change he was posted from there to Iceland, though they did change his kit to suit the conditions. I still remember the first time I saw him after his return.  He came to our house and gave me the biggest box of sweets I had ever seen.
A Huge Bonfire and a Doodlebug on Display
It was in Grays, when the war ended, where I was taken to see a huge bonfire that was going to be lit at the bottom of Clarence Road, and once it was ablaze two men came along with a life-size dummy held between them and I didn't understand it was a "Guy" made to look like Hitler and threw it into the fire and I thought it was a real man, I was quite shaken by that for some reason. Then there was the thrill of seeing a doodlebug on display outside the fire station, the one opposite the current library, one of its kind had landed just over the back of Cromwell Road during the war and flattened a number of houses, including 33 where family members lived.
Austin and I made efforts to help the war to an end, bits of shrapnel were gathered up and in the summer we would gather up all the acorns we could find from the two trees on the corner of Hatley Gardens as well as the other one over the road outside the Cook's house and pile them into the bins on the corner, collecting rose hips as well, I don't know what we did with those but I expect we had a reason for it at the time, maybe to make the rose hip syrup we were given along with that concentrated orange syrup, though I feel it might have been a form of paint stripper in disguise.
At one point unbeknown to us the Royal Artillery set up some anti-aircraft guns in the field one evening and later that night announced that they were there by opening fire on the aircraft passing overhead towards London, to this day I am convinced I hit the ceiling in fright from the opening salvo, I don't think anyone in the street was too happy about that event, but there was a "war on".
Then the following day they were gone, the next day my father took me for a walk and we went to Benfleet to walk up Essex Way and down Shipwrights Drive to take a bus home, and there at the bottom of the Way on the left hand side were the same gun crews, all ready for another go, I was allowed to sit and handle various non-dangerous bits before we went on our way.
I can still see in my minds eye the huge red glow to towards the West which I now know would have been from the fires of the East End of London burning.
During what probably was the summer of 1944  we went to Canvey Island for a day out, the weather was fantastic (wasn't it always when you were on holiday as a child)  the walk to the beach from the Haystack seemed never ending; then over the seawall and find a space to sit and change into trunks, the whole beach as far as you could see was filled with families with the same idea and the noise was tremendous.Perhaps there was a sense that this was all going to end soon but reality soon returned as two doodlebugs were spotted coming towards us from the Kent side of the river; in an instant the noise stopped and in seconds the beach was empty as everyone rushed up the seawall and took cover on the reverse side and we watched them going on inland, these were not destined for London as the flight was wrong so heaven knows were they ended up.