Dr. Helen Wessels
A Caring G.P. With a Sense of Humour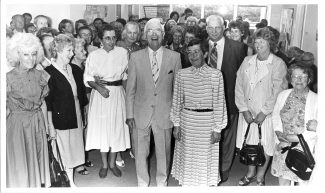 Dr Helen Wessels' career as a G.P. in Benfleet began in the 1960s. Originally this was a part-time position, helping out Dr Doug Acres as his assistant at the surgery which was on the corner of Warren Chase and Kiln Road. Eventually, this position became full time when Helen took over from Dr John Clarke.
Helen remained with the practice when it moved to Pendley House, Tarpots and then on to Rushbottom Lane, where it still is today.
Helen retired in the 1980s and eventually moved out of the area. She passed away in April, 2012, the dearly loved wife of Roy and the late Douglas Wessels, devoted Mother of Ian and Anne and much loved Grandma.
The following words have been taken from a eulogy, written and delivered by Dr Norman Sutcliffe, at Helen's funeral on the 8th May 2012.
"Helen was born in Ireland and qualified in Medical School there before coming to England.  She worked in hospitals in Ipswich and Rochdale before settling in Benfleet, where our paths crossed for the first time".
"I first met her at the local school Sports Day as our children attended the same school.  I came last in the Father's race and she certainly didn't win the Mother's race!  Shortly afterwards she did some locum work in our practice and later on she joined the practice full time.  This was not an easy time for her as she had Ian and Anne as young children, but she managed very well, being a doctor in a busy practice, a mother and a housewife supporting her husband Doug, who ran a laundry business".
"She is remembered fondly in Benfleet.  Like me she wasn't academically brilliant but she was gifted with common sense and a great sense of humour and most of all she cared and the patients loved her.   We worked well together – we both hated the new changes in Medicine – computers, targets to meet and multiple hospital investigations were not in our remit and she could be very forthright in her comments.  I remember once attending a lecture when a very superior maternity consultant told us during the lecture that with modern technology it was quite possible to see a patient through 9 months of pregnancy without ever putting a hand on her tummy, at which point Helen interjected  'You should try it sometime, you might learn something!'  This was followed by a stony silence."
"One of our highlights was when we attended a Postgraduate course in Toronto. We never found the lecture theatre but we managed to find all the lively bars and restaurants in downtown Toronto!"
"One of my fondest memories is of us both visiting Niagara Falls, when we made a trip on a boat called 'The Maid Of The Mist' right up to the huge volume of water crashing down. Dressed in oilskins and drenched in spray, with our hair plastered over our faces, we had the happiest time, as with broad grins on our faces, we laughed in the force of Nature."
"With her children grown up and branching out with their own lives, she had a period when life was quite empty and lonely and although she took up hobbies after she retired, she seemed unfulfilled. Then along came Roy – The knight in shining armour – and after their marriage in 1990 he spirited her away to Yorkshire. I know he brought her great happiness and I was absolutely delighted for them and they have had many happy years together."
"She enjoyed being only a housewife but took up other interests as well – playing Bowls and Bridge, advising in the Citizens Advice Bureau and undertaking voluntary work in the Charity Shop. She loved taking the money!"
"Latterly she needed care herself and it is fitting that after caring so well for others, she received wonderful care herself from medical colleagues."
We would like to thank Dr Norman Sutcliffe, who was a friend and colleague of Helen's for many years, for allowing us to reproduce this moving tribute.