Benfleet Primary School Anniversary
Celebrating 90 years of Learning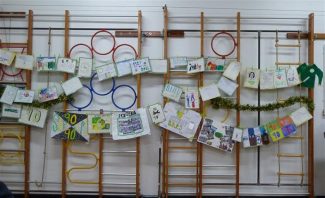 Pupils and teachers, past and present, gathered recently to celebrate 90 years since the opening of Benfleet Primary School.
The School, opened in 1926, was built to replace The National School in School Lane.  Whilst undergoing many changes over the last 90 years, it has successfully steered many Benfleet children (sometimes two or three generations of the same family) towards senior education and the future.
One of a range of events to celebrate the anniversary was a well attended open evening featuring displays of photographs and various items of memorabilia from over the years.
One item of special interest was the school log. This hand written document showed day to day activities and in particular the disruption during the Second World War.  Pupils were regularly sent home during Air Raids, some apparently enjoying the experience as they had unexpected time off!
A cake competition had been held and cards and other decorations made by current pupils were displayed around the school.
Refreshments were served while visitors and ex-pupils roamed the corridors, scouring the pictures to identify old friends or teachers, and at the same time seeking out those who were present if you wanted to chat.