Benfleet Horticultural Society - Part III
Cemetery Corner Stores
Benfleet Horticultural Society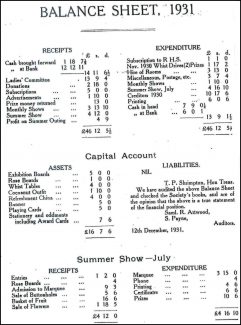 Benfleet Horticultural Society
Benfleet Horticultural Society
Benfleet Horticultural Society
Benfleet Horticultural Society
Sandra Shortell (nee Collins)
Sandra Shortell (nee Collins)
Sandra Shortell (nee Collins)
As far as can be gathered from the meagre existing records, the Society did not have any stores facilities before 1948.   During the 1939—1945 war and up to 1948 Mr A S Gibbs supplied plants and fertilizers from a shed in his garden at 9 Richmond Terrace (council house along the High Road).
When items could not be obtained locally they were ordered via the Secretary from suppliers who give discounts.  The offer of Messrs Robertson & Ireland makers of Greentwist string in spools, to supply us at a discount for bulk orders was refused by the Secretary because, to quote him "The Society is anxious to help local traders".
1948 The ground at Cemetery Corner was leased to the Society free of charge from Mr S Stibbard—the Hadleigh undertaker, possibly as a result of a friendly arrangement between Mr Stibbard and our then Treasurer; Councillor Mr L T Murray.  Mr Murray became our President the following year.
A small stores shed was obtained and erected in the position now occupied by the weighing up shed and Mr Goom was appointed Stores Manager. The first year takings were £168 and only five commodities were stocked. The main stores opening times have been added to over the years, with sometimes evenings as well when announced at the Stores and at Shows.
The  Stores  sales  and  items  stocked  grew rapidly under the guidance and hard work of Mr Goom and willing helpers such as Jim Craddock, Bert Wells, Ernie Williams, Len Salisbury, Bernard Harley, Mr & Mrs Brand and other Committee members.
1960  By 1960 the original Stores shed had become too small and was replaced by a wooden shed now used for stock and weighing up.  The total cost was £215. The shed base and the erection of the new shed took two days, the work being carried out by the workmen who delivered the shed and who slept on site for one night.
1963  Mr Goom died and Mr Wells took over for one year, then Mr H Salisbury until 1969 when the post of Stores Manager passed to Mr C H Boreham.
1969  The Stores ground was purchased from Messrs Stibbards for £417 and the Society became "landlords".
1970 The following year saw the erection of the present, more permanent stores building and an electrical supply connected at a cost of £475.  The Society as a result of the new building and purchase of the ground acquired a bank overdraft which was not cleared until 1976.   The Society was required to register for V.A.T. (Value Added Tax).  Mr Boreham's term as Manager saw the Stores continue to develop and by 1980 the sales had reached £14,000 with about 200 different items stocked.
1978  Water laid on for the first time during building work adjacent to the Stores.
1980 Chemical toilet installed.
1981 Mr Boreham resigned and the running of the Stores was taken over by a Consortium of Committee Members. The management of the Plant Stall was taken over by Mr Jim Collins assisted by Mr Reg Rackham.   A new concrete post and wooden front fence were erected.
1982 A 8ft x 6ft shed purchased as an additional lock up store and  'Tea making area".
1983 The Stores building was renovated and completely decorated inside, new stores racks, counter and coloured concrete slab floor.  The outside was also repainted.  Concrete strips were laid down in front of the Stores building to replace the wooden palletts for storage of peat bales and bagged composts.
1984 A second-hand cedarwood greenhouse was purchased and stored on site.
1985 On Boxing Day freak wind blew the roof off the Stores building. Mr Tomkins alerted by a neighbour of the Stores and members worked in wind and rain to cover the roof with a tarpaulin and saved the stock.
1986 The ground at the rear of the "weighing up" shed was cleared and a hard standing of rolled hoggin laid down in readiness for the construction of a new plant sale site.  Three small wooden sheds (one belonging to the Floral Art Group) and the cedarwood greenhouse were erected.
The Society was deregistered from V.A.T.
Stores equipment now owned by the Society included six sack barrows; weighing up scales; cash registers; labelling machines and the stores building is electrically heated for the comfort of the Stores staff and frost protection of tender stores items such as seed potatoes, onions, shallots and bulbs and corms.
The stores sales for the year was £15,600.  Approximately 350 items stocked (different) plus a full range of flower and vegetable seeds.
Since our President, Mr Jim Collins, took over (in 1981) the management and buying and sales of the Plant stall, it has become a thriving concern, greatly contributing to the Society's funds.
A large range of shrubs, bedding and rockery plants are stocked plus bowls of flowers and bulbs for special occasions such as Mother's Day and Christmas.  Fruit and Rose trees are also supplied to order.
1988  Mr Jim Collins retired from running plant sales.  Mr F Tomkins took over. Reregistered for V.A.T.
1989 Plans for new stores building approved by C.P.D.C.
1990 Mr M Dye  –  Stores Buyer resigned.  Mr F Tomkins took over as Stores Manager.  New Stores building erected during September/October.  Old shed provided in 1960 demolished.
1992  Deregistered from V.A.T. 31st March.  New metal gates in memory of Len Payne (died 1991) donated by his daughters, Angela and Kate, "opened" by them on June 26th.
1994 New drainage laid
1994/96 Remodernisation of Stores.
---
Parts I, II and III were compiled in 1987 by Mr J Delroyd.