The Benfleet Tennis Club Goes to Paris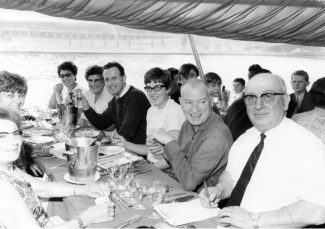 We lived in Benfleet from 1964 to 1986 and we both played at the Benfleet Tennis Club, my husband George played in the South East Essex league. I was just a social player weekends and in the evenings. We had two club nights if I remember correctly. Norman Chisman was the organiser of the club and his wife Vera also played and did the refreshments. Other members who played were Len Walters, Joan Fulford, Mick Glew and another man called Keith Hoskins, his wife Gloria did not play, but she came with us when we went to Romainville, a suburb of Paris and she is in the pictures.  There were two Johns, one was a teacher at the school in the High Road. There were about 20 of us in all.
We left Southend airport at 7pm on Friday evening.  We were met by our French hosts and were driving around the Arc de Triomphe by 9pm, having gained an hour of course.
On Saturday we played on clay courts which were very different from our tarmac ones in Richmond Park. Consequently we were slaughtered but it didn't matter as we had a good time in the evening when our hosts Romainville Council put on a dance and wonderful buffet.
Sunday was a free day to spend with our hosts, a few of them got together and arranged to take us on the Bateaux Mouche on the Seine for lunch.
Norman also arranged tennis dances in Richmond Hall to raise funds for the Tennis Club, these photographs are at an international fancy dress dance.
The Junior Section 1954/55?
Marion Turner (Nee Reeves)
The Junior section was started around this time by Norman Winship  (an older man), Norman Chisman, his wife Vera, Bill Stokes and his wife Rena.  Hugh Drane who ran the Post office was also involved.  They taught teenage children to play tennis, how to hold the racket and the basics of the game.  There was a group of girls who played, Margaret Newman, Margaret Sparrow, Vera Clarke and Christine Jones and myself, then Marion Reeves. I don't remember any boys playing.
The End
The Tennis Club courts were eventually sold off sometime in the 1990s now the rear playground of Benfleet Junior School, next to the bowls club green.
More Information and Photographs
If you have any more information about the Tennis Club that you would like to share please contact the Archive.