Hill Road
A personal memoir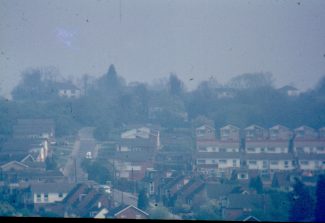 Hill Road, where I was born in the early 1950s, has seen many changes over the past half century.  My father Harry and mother Jessie had lived there since the late 1940s.  I was the youngest of their three children and had two older brothers.
My father was a keen amateur photographer and often took his camera with him when walking his dog.  After he died in the early 1980s I inherited his collection of local photographs, taken over a span of 50 years.
In the early 1950s  there were just four properties at the top end of Hill Road and  a handful at the lower end towards the junction with Underhill Road.
My childhood home
'Lyndhurst'  was situated on the corner of Lime Road and Hill Road. There was no mains drainage to the bungalow and no electricity supply.  The toilet was what we laughingly referred to as 'bucket and chuck it'.  The more able in my family, my father in the early years and later my two brothers, regularly had to empty the contents of the tin bucket into a large, deep hole within the grounds.  Luckily, we had a big garden, around three quarters an acre.   In spite of this my childhood was idyllic.
The top end of Hill Road was unmade and remains so today.  The ruts and mud and overgrown bushes made it difficult for car drivers, so very little traffic used the road.   Luckily, this meant that my parents allowed me  to roam freely and from a very early age, I would spend all my out of school time climbing trees and making dens in the thick woodlands.  I remember my early childhood as being carefree and happy.  At this time I attended Thundersley Primary School in Dark Lane, Thundersley.  During the warmer months, when the evenings were longer I would go out to play until quite late, even as it grew dark it was still considered safe for me to be out alone.
The field outside 'Lyndhurst' was partly fenced, allowing us to play there.  We never knew who owned this land but there were horses tethered there during the summer months. When my friend Susan came to play we would take our butterfly nets and jam jars and chase butterflies through the long grass.   In the summer it was a glorious sight, the whole area was covered with daisies and wild flowers growing up to waist height.
The Wood family
My parents had friends who lived opposite this field on the boundary with Thundersley Park Road, Bob Wood and his wife Nell. Bob was a keen gardener and was always to be seen out front, mowing his lawn.  Bob's sister, Eva, lived next door to them.
The Mills family
At the very top of Hill Road where it meets Thundersley Park Road was a house called 'The Chime'.  It was a very large and somehow frightening looking property.  The Mills family lived there, mother and father and their daughter Betty.   I don't remember ever seeing Mr Mills, but I do remember if you asked after him you would always be told he was  'resting'.   The whole family smoked heavily and because they rarely ventured out, they would ask my mum to run errands for them,  sometimes food but usually cigarettes and chocolate.   When we came back with the shopping, Betty would always give me some of the chocolate.
On the other side of 'Lyndhurst' heading down the hill was a property called 'Aldecar' where a family lived who were also friends of my parents and my dad would sometimes visit them and play on their piano.
The Hockley family
Next door to them lived the Hockley family, again occasionally we would visit them.  Everyone, knew everyone in those days.   This was the last house going down Hill Road before the long, open un-made section which gave way to a few more houses at the very bottom.
The pig farm
Opposite  'Aldecar' was a wide, five bar wooden gate leading into a field, which then opened out into another large area where there  was a pig farm.  I remember playing with the pigs in their pens.  I used to scrump apples from the trees in our garden and take them down to feed the animals.  I can remember being afraid that the farmer would catch me and be angry.  When the conditions were right, you could hear the pigs squeal at feeding time from our garden.  Looking back I don't think I  understood what would eventually happen to them.
Grand View  – Maud Allamand
A little further down Hill Road, standing all on its own amidst the fields was a colonial style bungalow.  The property faced towards the golf course and had a white, wooden ornate veranda across the front, where the family sat down for afternoon tea.  They were called the Allamand family and I would sometimes visit them with my mum.  Mrs Allamand made wonderful cakes and on a Saturday it was a treat to visit them.  The tea was served on the veranda and was a grand affair, with pretty china, damask tablecloths and best silver.
Durley Grange
Further down Hill Road stood a large property called 'Durley Grange', I think it was on the corner of Hill Road and Fernlea Road. In the 1960s it was sold to a property developer who went on to build many of the houses there today.  The development was named 'Durley Grange' and the first road to be built was Clarence Road North. Over the next decade the whole development evolved, including Hill Road, Durley Close, Hill Close, Fernlea Road and Southwell Road.