Lieutenant - Commander Charles H Wines DCM RN
A Benfleet Pilot's War 1939 - 1945
Front cover of 'Swordfish at war' with the permission of publishers Ian Allan Printing Ltd Surrey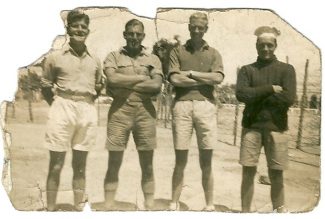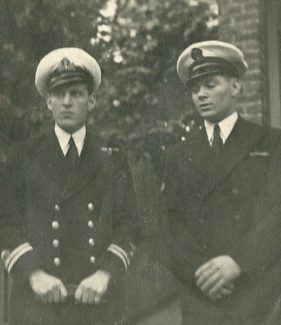 Born Canvey Island.   1917  –  1991
Educated Southend High School for Boys.
Lived in Benfleet and Lee on Solent.
After the Second World War worked in the Fleet Air Arm Drafting Office.
Charles Wines joined the Navy in 1936 working in the stores, with the nuts and bolts that kept the organisation running smoothly.  However with the outbreak of the Second World War the Navy expanded the Fleet Air Arm and serving men were invited to apply, and Charles did so.
Charles was accepted after interview, at which according to his brother Gilbert Wines when asked how he had faired in the yacht race the day before he replied 'Only slightly ahead of you sir.'  Sailing he had learnt at Benfleet Yacht Club in the Creek.
He completed his pilot training in the South of France, where he learnt to fly Swordfish biplanes.
The following material is taken from interviews conducted with the air crew of Swordfish aircraft  and are extracts from the book,
'Swordfish at War' – W, Harrison, published 1987.
They are reproduced here with the kind permission of the publishers Ian Allan Ltd, Surrey.
Interview with Lt – Cdr Charles Wines, who at the time of these events was a petty officer.
      " I arrived at Hyeres (Bas Aero Navale) near Toulon at the end of May 1940 with other Petty Officers to complete our deck landing on 'Argus's' flight deck, the Squadron being 767. " '
France surrendered and Charles was transferred to Malta and he never did get to land on that carrier.
"We bombed Genoaon on 6thJune 1940, taking the Italians completely by surprise with no losses.  On 18th June we left Hyeres for Bone in Algeria and there it was decided to send 12 Swordfish to Malta as 830 Squadron with Lt – Cdr F. D.Howie as CO. Petty Officer Freddie Parr and myself were the only rating pilots selected to stay.  We arrived at Hal Far to find the airfield covered with busses and training aircraft as an anti-invasion device.  We landed among them with no trouble much to the charging of the Wing commander in charge, who considered his plan foolproof.  During the next few months we operated against the Italians in Sicily andTripoli with bombs mines and torpedoes."
Interview with Nat Gold – one of Charles's air gunners and radio operators, in 1941 from 'Swordfish at War'
      " During the late afternoon of Tuesday 18 th March 1941, the Swordfish of 830 Squadron were being armed for the forthcoming night operation….I had no idea who my pilot would be…. A quick glance at the board, ''GOLD'' – Petty Officer Charles Wines – that was enough, I need not look at the armament, we would be carrying bombs.  My heart sank, this was to be my first dive bombing opera tion; five Swordfish would lay magnetic mines at the entrance to Tripoli harbour and three others would dive bomb heavy ack-ack positions.  In the past, out of three bombing aircraft we generally lost one, so my chances were slim – the only reassuring tho ught being that Charles Wines was the best dive bombing pilot on the squadron. "
      " Arriving at the target the CO gave the signal to break formation and take up action stations.  The mine laying Swordfish would throttle back and glide to within 100 feet of the sea and try to release the mine as near the harbour entrance as possible…..  as we flew in from the north we could see that all hell had been let loose down below and Charles called up again, " There's a beautiful big ship in the middle of the harbour – I'm going after it."  Charles turned south and then East to arrive over the box barrage and then suddenly the nose of the Swordfish dropped and we went into a vertical dive.  …..The sight before my eyes frightened the life out of me.  It was just like da ylight, tracer from breeder guns coming up from all directions like a string of onions, some white, some green, some red, fascinating to watch (lethal to meet), snaking their way up slowly at first, then gathering speed until they were rushing like an express train, swishing, crackling, popping, I could even smell them!  How they missed I shall never know, we were a sitting duck.  I leaned further over the side… the ship now looked enormous….  Then I heard a bomb explode, followed by another, and another, and another until I had accounted for all six  – Charles had timed it beautifully.  As the bombs exploded we banked away…Charles threw the kite all over the sky to avoid the flak. Tracer from the breeder guns was stilluncomfortably close and searchlightstwisted across the sky because they could not find us.  Suddenly we were free.  How we ever got away … I shall never know it was like standing in front of a firing squad and every bullet missing."

      "Charles voice yelled through the Gosport tube, 'We got her, straddled her right across the foc's'le' I yelled back 'Bloody good show, but we were a bit low weren't we?  What height did you pull out at?' Charles yelled back 'We commenced our dive at 4,000ft and pulled out at 800.' "
   Later " ' as I walked back to the briefing room with Charles I had that wonderful feeling which comes when your feet are on the firm earth after many hours of flying. " '
A 'Gosport tube' is a speaking tube, a way for aircrew to communicate.
Charles Wines held the distinction of being the only rating in the Royal Navy who attacked enemy shipping whilst flying a Swordfish aircraft armed with torpedoes.
What follows is his description of that attack, from 'Swordfish at War'
Lt – Cdr Charles Wines,
      " Both Freddie Parr and myself were trained at Kalfrana to drop torpedoes even though rating pilots were no t supposed to.  I polished and cosseted my only torpedo and was shot down after my one and only attack against a tanker in a convoy off the Tunisian coast.  Due to the escorts's fire I had to fly up to, and over my target with the predictable result of bein g filled ful l of holes and lucky enough to be able to crash land on the beach at Hammamet partially blinded by oil from a fractured fuel tank .  I was to spend nearly two years as a POW in Tunis, Medea and Laghouat before being released in late 1942 when the Allies landed in Algiers."
See copy of Charles Wines's flight log book dated April 12 1941.