( 9) James Anthony Gullett. Signal Boy. Killed in Action.
H.M.S. Black Prince.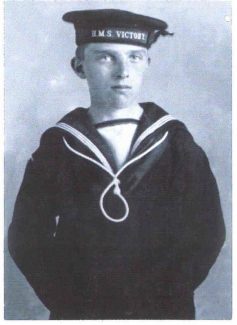 Copyright. Commonwealth War Graves Commission.
Signal Boy James Anthony Gullett. (see also) Service No. J/41341., was by any stretch of the imagination, a brave young man.  At the age of just 17, he was serving on board the armoured cruiser H.M.S. Black Prince at the Battle of Jutland where he witnessed the horrors and devastation of war.
On 31 May 1916, during the battle, the First Cruiser Squadron was deployed as part of a screening force several miles ahead of the main force of the Grand Fleet.  The H.M.S Black Prince lost contact with the rest of the squadron as it came into contact with the German ships at about 17.45.  There were no positive sightings of H.M.S. Black Prince by the British fleet after that, although a wireless signal from her was received at 20.45, reporting a submarine sighting.
Reports have varied regarding the events of H.M.S. Black Prince at the battle but historians accept the German account as being correct.
On 31 May 1916, The H.M.S. Black Prince became separated from the rest of the British fleet and approached the German fleet at approximately midnight.  As she turned away from the German battleships it was too late, the German battleship Thüringen opened fire on her.  Up to five other German ships, including battleships. Nassau, Ostfriesland and Friedrich der Grosse joined in the bombardment.  Return fire from the British ship was ineffective, the German ships had superior fire power.  The H.M.S. Black Prince was hit by a least twelve heavy shells and several smaller ones.  The damage caused her to sink within 15 minutes. There were no survivors, all 857 on board were killed.
Signal Boy James Anthony Gullett, aged 17 was one.  His body was never recovered and his grave is the sea.  He is commemorated on the Chatham Memorial.  Kent.