( 2a) Kapitänleutnant Otto Weddigen. 1882-1915.
H.M.S. Aboukir. H.M.S. Hogue. H.M.S. Cressy.
F. Urbahns. Hofphot. Kiel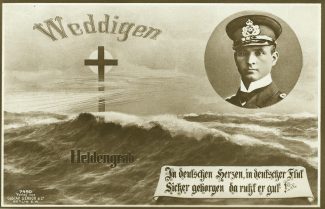 Gustav Liersch & Co. Berlin
J. Welch & Sons. Portsmouth.
Kapitänleutnant Otto Eduard Weddigen.
On 22 September 1914, one thousand four hundred and fifty nine men died in the North Sea.  Four of the men killed had links to Benfleet and Canvey Island.
BENFLEET.
STANLEY MOOR CHILES.   Service No. 210506.
Rank.  Leading Seaman.
Service.  Royal Navy.
Unit Text.  H.M.S. Aboukir.
Son of.  Walter Chiles, and the late Mary Chiles, of Melcombe Road.  Benfleet.
Memorial Ref.  Chatham Naval Memorial.  Kent.
CANVEY ISLAND.
ADOLPHUS SAMUEL SMITH. Service No. 220809.
Rank.  Leading Signalman.
Service.  Royal Navy.
Unit Text.  H.M.S. Aboukir.
Son of.  Emily Sorrell (formally Smith), of Fobbing.  Essex.
Memorial Ref.  Chatham Naval Memorial.  Kent.
ARTHUR JENNINGS.  Service No. 305498.
Rank.  Stoker 1st Class.
Service.  Royal Navy.
Unit Text.  H.M.S. Aboukir.
Memorial Ref.  Chatham Naval Memorial.  Kent.
WILLIAM THOMAS EASTERBROOK.  Service No. 206711.
Rank.  Able Seaman.
Service.  Royal Navy.
Unit Text.  H.M.S. Hogue.
Memorial Ref.  Plymouth Naval Memorial.  Devon.
They were without any destroyer escort while patrolling an area known as the Broad Fourteens when they were spotted by Kapitänleutnant Otto Eduard Weddigen, in command of German Submarine U9.
From that day on much has been written about the events that killed so many.  The following is an extract from the memoirs of Kapitänleutnant Otto Weddigen, written in 1914. "I am 32 years old and have been attached to the submarine flotilla and have been most interested in that branch of the navy.  At the outbreak of the war our undersea boats were rendezvoused at a series of harbours on our coast of the North Sea. I was married on 16 August 1914 at the home of my brother in Wilhelmshaven to my boyhood sweetheart, Miss Prete of Hamburg.  My bride and I wanted the ceremony to take place at the appointed time, and it did, although within twenty-four hours thereafter I had to go away on a venture that gave a good chance of making my new wife a widow.
I was soon cruising off the coast of Holland.  I had been lying in wait there only a few days before the morning of 22 September arrived, the day on which I fell in with my quarry.  I had sighted several ships during my passage but they were not what I was seeking.  English torpedo boats came within my reach but I felt there was bigger game further on.
It was ten minutes after 6 on the morning of last Tuesday and I had been going ahead partly submerged with about five feet of my periscope showing.  Almost immediately I caught sight of the first cruiser and two others.  I submerged completely and laid course so as to bring up in the centre of the trio.  They were near enough for torpedo work but I wanted to make my aim sure, so I went down and in on them.  I soon reached what I regarded as a good shooting point.  I then loosed one of my torpedoes at the middle ship.  I discovered that the shot had gone straight and true striking the ship under one of her magazines, which in exploding helped the torpedoes work of destruction.  I later learned that the ship was the Aboukir.  She had been broken apart and sank within minutes.  The Aboukir had been stricken in a vital spot and by an unseen force; that made the blow all the greater.  Her crew were brave and even with death staring them in the face kept to their posts, ready to handle their useless guns.
I could see the Cressy and Hogue, turn and steam full speed to their dying sister.  Soon, the other two English cruisers learned what had brought about the destruction so suddenly.  I sent a second charge at the nearest oncoming vessel, which was the Hogue.  The English were playing my game.  The attack on the Hogue went true.  She lay wounded and helpless on the surface before she heaved, half turned and sank.
The third cruiser, Cressy, knew the enemy was upon her and she sought as best she could to defend herself.  She stood her ground as if more anxious to help the many sailors who were in the water than to save herself.  When I got within a suitable range I sent away my third attack.  This time I sent a second torpedeo after the first to make the strike doubly certain.  Both torpedoes went to their bulls-eye.  At once she began sinking by her head, then careened far over, all the while her men stayed at the guns looking for their invisible foe.  They were brave and true to their country's traditions.  Then she suffered a boiler explosion and turned turtle.  With her keel uppermost she floated until the air got out from under her and she sank with a loud sound, as if from a creature in pain.  The whole affair had taken less than one hour.
Having done my appointed work, I set course for home.  I reached the home port on the afternoon of the 23rd and on the 24th went to Wilhelmshaven to find that news of my effort had become public.  I then learned that my little vessel and her brave crew had won the plaudit of the Kaiser, who conferred each of my co-workers the Iron Cross of the Second Class and upon me the Iron Cross First and Second Class."
In the space of one hour, forty-nine days after the start of World War 1, the Royal Navy lost three ships and 1549 men.  For the majority of the men, their grave is the sea.  Ten bodies, five from H.M.S. Aboukir, four from H.M.S. Cressy and one from H.M.S. Hogue were recovered from the sea and taken to The Hague General Cemetery in the Netherlands.  Eleven bodies, five from H.M.S. Aboukir, three from H.M.S. Cressy and three from H.M.S. Hogue, were also recovered from the sea and taken to 's Gravenzande General Cemetery in the Netherlands.  In those cemeteries their bodies were either buried or their names engraved on a Special Memorial.
Kapitänleutnant Weddigen continued service with the submarine and on 15 October 1914 he torpedoed H.M.S. Hawke.  She sank in a matter of minutes taking with her 527 men.  On 12 March 1915 he sank three British Steamships, the Andalusian, Indian City and Headlines.  However, on those occasions there was no loss of life.
Kapitänleutnant Otto Eduard Weddigen died on 18 March 1915 while in command of U-Boat 29.  On patrol at Pentland Firth, Scotland, he surfaced after firing a torpedo at H.M.S. Neptune.  Unfortunately, it was in front of H.M.S. Dreadnought and before he could submerge it was rammed by the powerful battleship.  The U-Boat sank, taking with her the entire crew.  Their grave is also the sea.
A full list of over 2000 casualties plus survivors from the four ships can be found on:- www.naval-history.net
Chatham Naval Memorial contains the names of 18615 identified casualties.
Plymouth Naval Memorial contains the names of 23192 identified casualties.
---
Replies to Comments
In the comments below Sandra Topley asked if anybody had a photograph of her grandfather Thomas Arthur Jobbins, who was one of the sailors that perished on the HMS Abourkir.
Slav replied on 7th January 2016 with a photo. He points out that her grandfather is the sailor on the right.
---