The Carter-Boston Film Producing Company
Benfleet's 1930's film production company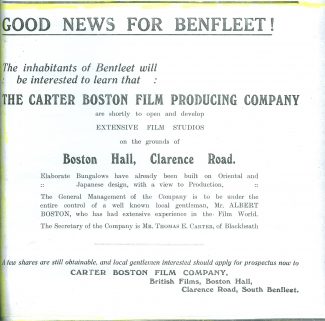 There has been a rumour of a film production company in Benfleet for some time. Our Chairman, Mark Thres, discovered these adverts and article in the Benfleet Weekly Gazette, which proved one did exist. Since then we have further evidence that the studio existed. This transcription is of the article from 1928.
OUR CINEMA COLUMN.
By "SPOTLIGHT."
The CARTER-BOSTON CIRCUIT
Strolling in the vicinity of Thundersley Park Road recently and happening to turn up Clarence Road I was surprised to see what appeared to a game of football being played on a kind of huge raised platform. On closer investigation this turned out be an outdoor scenic screen built in the grounds of the Carter-Boston Film Studios.
I found Mr. T. E. Carter the Secretary, apparently acting as linesman and he quickly explained matters.
The outdoor scenic screen was as yet unfinished, but the huge platform already constituted the second largest screen of its kind in England, being very little smaller than that at Elstree. In fact the Carter-Boston Studio will be the second largest in England.
Mr. Carter went on to inform me that the crowd on the platform were some of the film artistes – not at work but at play.
I mentioned to Mr. Carter that in conversation with various people in Benfleet I had got the impression that they did not take this matter of the Film Studios seriously, but regarded it as some sort of stunt. Very emphatically Mr. Carter replied "I haven't the slightest hesitation, in saying, so far from it being a stunt – it is all accomplished fact. We have artistes engaged. We are building this outdoor screen costing £160. We have a subscribed capital of £30,000. I myself have given up a lucrative post with Lasky's to put my hand to this – is it likely that all that is being done for a stunt? We intend building a large Crystal Studio in the grounds, a building mainly of glass, for the purpose of doing as much film work as possible with natural light. We shall have our own dark rooms and run our own Electric Light Plant."
"Also, we are in negotiation for a site in Benfleet to put up a Cinema to seat 1,000 people, in fact, the negotiations have gone so far that we can almost say we have settled on a site, and it will not be a tin hut or corrugated iron affair, it will be a Cinema, worthy of the name. We intend trying out our own films there, as well as showing other popular films, and shall have musical turns. We have already acquired a Pipe Organ that has cost us £1,500, which we shall have installed – an organ capable of giving such effects as no organ in Southend could give. It belonged at one time to Madam Melba. No, my friend, this is no stunt, we mean business, and we hope the people of Benfleet will help by taking us seriously, for, when you realise that our salary list will be round about £200 a week, this should mean good business for the district."
As Mr. Carter and Mr. Albert Boston, the Managing Director, bade me a cordial good-day, they assured me that as far as possible they would employ local people for minor parts, "and," said Mr. Carter, "If any of them show signs of talent they will be given every opportunity to become famous in the Film World."