Benfleet Village
Scott's Illustrated Guide "Holland-in-England" 1906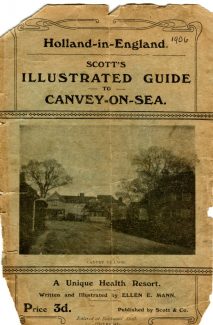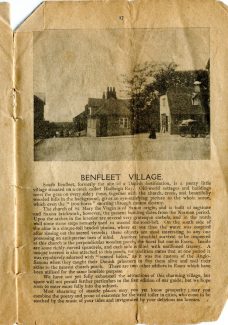 South Benfleet, formerly the site of a Danish fortification, is a pretty little village situated on a creek called Hadleigh Ray. Old-world cottages and buildings meet the gaze on every side; these, together with the church, creek, and beautifully wooded hills in the background, gives an eye-satisfying picture to the whole scene, which even the "iron-horse" snorting through cannot destroy.
The church of St. Mary the Virgin is of Saxon origin, and is built of ragstone and Saxon brickwork, however, the present building dates from the Norman period. Upon the arches in the interior are several very grotesque corbels, and in the north wall some stone steps formerly used to ascend the rood-loft. On the south side of the altar is a cinque-toil headed piscina, where at one time the water was emptied after rinsing out the sacred vessels; these objects are most interesting to any one possessing an antiquarian turn of mind. Another beautiful survival to be inspected at this church is the perpendicular wooden porch, the finest but one in Essex. Inside are some richly-carved spandrels, and each side is filled with mullioned tracery. A unique interest is also attached to this porch, for tradition states that at one period it was repulsively adorned with "tanned hides,'" as it was the custom of the Anglo-Saxons when they caught their Danish prisoners to flay them alive and nail their skins to the nearest church porch. There are two other edifices in Essex which have been utilised for the same horrible purpose.
We have not yet fully exhausted the attractions of this charming village, but space will not permit further particulars in the first edition of our guide; but we hope soon to enter more fully into the subject.
Most charming of seaside places may you yet know prosperity; may you combine the poetry and prose of existence for the tired toiler in cities, who come to be soothed by the music of your tides and invigorated by your delicious sea breezes.