Benfleet's Postal History.
Is this Benfleet's Oldest?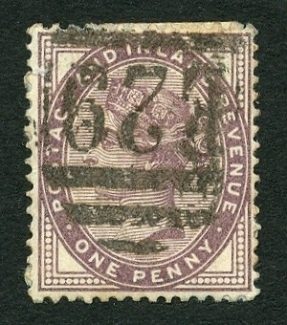 Lilac Postage Stamp. | Ronnie Pigram." />
This Victorian Letter Box is situated at the junction of Vicarage Hill and Essex Way.  This small 'C' design was introduced in 1871 and  available in two sizes: 28 X 13 inches and 28 X 10 inches.  The flap and aperture was changed to an upshoot as a protection against thieves and rain.  This Letter Box would appear to have been manufactured by W. T. Allen & Company from 1881 as their design featured the royal cipher and crown above the words POST OFFICE.  The collection plate is mounted on the door within a beading and also incorporates a NEXT COLLECTION tablet in the top of the plate.
Is this Benfleet's oldest Letter Box and is it situated in its original position?  Any further information regarding this, our Letter Boxes and postal history will be gratefully received.
The following extract is taken from the Southend Standard 10 August 1967.
With thanks to Yvette Layzell for allowing access to her family history records.
During the reign of Queen Victoria the delivery and collection of letters in Benfleet and Canvey Island was rather erratic as there were no letter posting boxes as we know them.  In 1848 Simon Daines was the authorised "Receiver of Letters" for Benfleet and district.  There was no postal delivery for Canvey at the time and if a letter for a Canvey resident arrived at Simon Daines authorised address it had to be collected from and paid for there.  Outgoing letters were dispatched by Simon Daines at 2.30 p.m., to the Rochford Post Office and from there were connected with the mail coach to the General Post Office in London.
The Daines family were business people in South Benfleet.  Thomas Daines was the village carpenter and Charles Daines was landlord of the Crown beerhouse.  Simon Daines was the Postmaster until 1874 when Henry Brewitt, the village shoe maker and parish clerk took over.  By this time owing to various complaints of the late arrival of letters from the Rochford office, letters were sent direct to South Benfleet from the Chelmsford mail office.
From 1878 to 1882 Mrs. Elizabeth Brewitt was the Postmistress.  Letters for the district arrived at 10.45 a.m.  Three dispatches took place at, 2.30 p.m, 3.30 p.m., and the last one at 7 p.m.  Five years later Mrs. E. Lawrence, the village baker at South Benfleet, also dealt with the postal business.
In November of 1881, the few residents on Canvey Island petitioned the Postmaster General in London for a Post Office on the Island and the authorities took a census of letters to and from Canvey Island.  This resulted in a refusal of the request on the grounds: "The expense of establishing a sub-post office would not be covered by the letters posted."
Some of those who signed the original petition were:
Rev. Henry Hayes.  Vicar of Canvey.
Aaron Leach.  Farm Baliff.
Richard Heraghty.  Chief Coastguard Officer.
Thomas Searle.  Farmer.
Charles Beckwith.  Lobster Smack Inn.
Miss. Alice Bull.  Schoolteacher.
Plus thirty three other Island residents.
A wall posting box was installed in the centre of the Island by the Red Cow Inn by the crossroads near the thatched village pump.
Letters sent from South Benfleet to Canvey were left at the Canvey village school.  For this service Mrs. Brewitt had her salary raised from £4 to £15.12s (£15.60p) a year, with one shilling (5p) per week allowed for ferry fees.
In November of 1887 the Canvey residents submitted another petition to the Postmaster General.  This stated there was nowhere on Canvey to buy stamps or postal orders and as more houses were being built the lack of postal system inconvenienced many people.  The Post Office still refused to approve a sub-post office on the grounds of expense.  In January of 1888 the residents appealed to Major J. C. Rasch. M.P. for South Essex, to take up the issue with the Postmaster General personally.  The case was reviewed and the M.P. was informed that a sub-office would open on Canvey on 25 May 1888.  Mr. Turnridge, a local shop keeper was appointed Sub-Postmaster with a salary of £5 per year plus a weekly allowance of seven shillings (35p) for delivery of letters from the Sorting Office to Scar House, on Canvey Island.
By 1893, there was a wall posting box at Winter Gardens that was cleared at 10.15 a.m.  Another box at Small Gains was cleared at 11.45 a.m.
Ferry Disputes.
From time to time there were disputes over charges between the ferrymen and ther letter-carriers using it on Post Office business.  In July 1901, Mr. George Wright, wrote to Southend Head Office, who at the beginning of the century controled the district postal sub-offices.  He stated that in future, due to disputed fees, he would not carry Mr. Boreham, the South Benfleet letter-carrier or any other person taking telegrams to Canvey Island.
The matter was eventually settled and the following ferry charges applied:
Letter-carriers.  4½d.
Postman.  1½d.
Bicycle.  1½d.
Mailbag.  1½d.
In 1901,  (d = 1 penny).  (240d's = £1).   (480 1/2d's = £1).
In 1917, Mr. J. W. Wright, left the ferry rights to his son, Mr. Wright.  He, in May 1921 made an assignment of part of his rights to Mr. Pooley for £300.  In August 1922, he sold half his share in the ferry to Mr. Layzell, of South Benfleet, for £150 and in April 1924, the other half for £185.  These were large sums for the time and subsequently Mr. Layzell sold half his share for £500.
As the ferry changed hands and fees varied the Post Office drew up a contract for the mail to be carried over.  In 1923 the ferry fees had cost the Post Office £21. 13s. 1d.  (£21. 66p).  A contract made with the ferry owner, Mr. A. R. Layzell, of High Street, South Benfleet, shows the Post Office agreed to pay him £7 a quarter.
In 1925 a rival ferry began to operate at a lower fee of one penny. When the contract came up for renewal the Post Office waited to see the result of a High Court action regarding the ferry rights that took place in November 1926, before Mr. Justice Romer.  Ferry owners, Mr. Albert Richard Layzell, of High Road, South Benfleet, and Mr. William Henry Theobald, of Belton Hill Farm, Leigh, asked for an injunction restraining three residents of Canvey Island who were operating the rival ferry in opposition.  The rivals were Mr. Golden Thompson, of Small Gains, Canvey, Mr. Henry Dellaway, of The Haystack Inn, and Mr. Arthur Kennedy, of Winter Gardens.  The evidence showed that Mr. Layzell's ferry had ancient rights traced back to 1848 and was the period when the first receiving house was authorised at South Benfleet by the Post Office.  In March 1927, an appeal by the defendants was heard before the Master of the Rolls and two Lord Justices.  This resulted in the judgement of Justice Romer being upheld with costs.