My School Days
John Garnham Remembers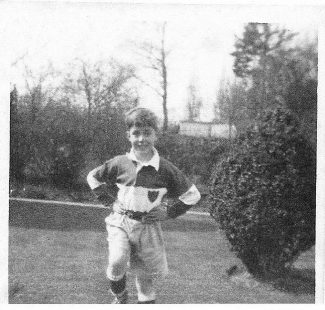 Growing up in Thundersley
1953 was quite a year for the Garnhams of number 9 Langford Crescent. Of course we had the Coronation and through Thundersley Primary School I was given a model of the Coronation coach. My sister Mary was brought into this world in our house by Dr. Wilks (always with his Land Rover) and midwife Nurse Groombridge – no need for the NHS. Mary today calls me a walking miracle as I carry a six inch scar over a breast reduction where a Melanoma was removed and I am still under observation following surgery to remove bladder cancer. Mary has not had it easy and has had a long and hard fight with Lymphoma – this was shown as clear at her last scan. Our other sister, Jill, is more resilient.
The 1953 Canvey floods saw my father, Laurie, rowing his dinghy to give some help.  My father was an R.A.F. radio operator in WW2 and was befriended by a Brussels family, they communicated for a long time after the end of the war. He was an insurance broker with Price Forbes and he travelled daily from Benfleet to Fenchurch Street station. He had a small yacht, which to me always seemed to be lying in the mud at Benfleet. His pride and joy was an Austin 7 which to my dismay he used to drive with the hood down but with the flimsy yellowing windows in place. On one occasion, a few yards from our house, the back axle broke – unfortunately this tribute to British engineering happened whilst my Grandmother was a passenger. Often the car was frozen to the ground at the railway station and the car did not have the power to move itself so the ice had to be removed.
Our friends and neighbours
A neighbour of ours was a Mr. Sam who was well known for the very large Dahlias he grew. We had friends across the road from the Langford Crescent allotments. They were Lionel, a bus driver, and his wife Edna Richardson, who lived at number 6. Lionel had pin-ups in his garage and my father expressed his disapproval but we seemed to go there quite often! I was always amazed as Lionel had a cathode ray tube which glowed when he rubbed it.
My mother was a Yorkshire farmer's daughter. She told of the prisoners of war on the farm and how the Germans would work incredibly hard on the land whilst the Italians combed their hair and whistled at the girls – races are different. One item of advice from this Yorkshire lass is most pertinent today with International terrorism and current English politics as it is – "Never trust a man with a beard".
When safety and security did not exist
I was friends with Robert and Christopher Pond and enjoyed an occasional free ice cream from their father's shop. Mr Clough, Headmaster of Thundersley Primary School, and his cane are etched in my memory. He would storm into the classroom and hit a desk top violently. He did not have visible finger nail moons and the nails were only slightly visible. I was deeply in love with Susan Green (at age 9) and a group of us would walk down a tree covered lane towards her home after school. There could surely have been no better place to grow up in than Thundersley – the freedom I had was amazing and the words safety and security did not exist.
Two more names from Thundersley Primary come to mind, being Jon (no "h") Lever and Alan Emery. Jon had a skin complaint and Alan was a "ginger". I can "see" them at the ice slide at the back of the school.
During one of our many forages we got the fright of our lives. At the top of Langford Crescent was an undeveloped and bushy area. We came across a grassy clearing and saw a number of mounds with snakes on them. We ran away and from then on called it "Adder field". With the benefit of modern technology I now believe these to have been Grass snakes on their eggs. (Adders give birth to live young).
One of the loves of my youth were conkers. I now see that my beloved Horse Chestnut tree is under attack, inter alia, from an unwanted immigrant. To think that they are expected to disappear in a few years is more than sad.
I don't recall much of St. Peters Church other than the Harvest Thanksgiving Service. The array of produce is clear in my mind and for some reason I have carried the image of a sheaf of wheat with me through life. The Church hall holds a bad and a good memory for me. I was dressed in a sailor suit and had to do some performance. The good memory is a pretty girl suitably dressed and singing "Ain't She Sweet".
The Thundersley seed has travelled far
Just to close, a little more about me.  We emigrated to South Africa in 1957 when I was ten. My father went by air before to establish our new home and start his job. We three went later to Cape Town on the Edinburgh Castle and then travelled by train to Johannesburg. This trip is another short story in itself. We were excited as Dad was to get a company car – WOW – and we were told it was to be a Morris Minor which model Mother showed us in Southend – it ended up being a Ford Prefect.
I have five children – two in Australia, One in America and two in Johannesburg. I have four Grandchildren plus one in the oven. That Thundersley seed has travelled far and must have had at least some influence in the wider world.